Ghostface
Was the mask in the Scream trilogy inspired by a cave formation in Bandelier National Monument Park in New Mexico? It's commonly held to have been inspired by Edvard Munch's The Scream, but I'm going with the theory that Wes Craven is a hiker.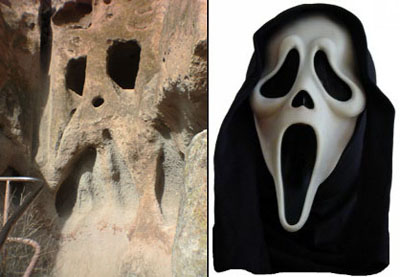 Hi, I'm John Tolva!

I'm a co-founder of
Cityfi
, a strategic urban consultancy.
This is all my other stuff.
Here's
a little bit about me
and how to get in touch.
Marginalia
Commissioner Novara will do great things in this role.

"Humour isn't always universal. Fear is."

Reel-to-realism?

Some reflections and lessons from a friend and collaborator during the early years of the Emanuel administration.

"There are ideas and cultural practices that can take root and spread in a city that simply can't spread out in the countryside. (Mathematically can't.)"

Colorado Smart Cities Alliance FTW.

"The end-times achieved a kind of temporal integration, like the backing a mirror needs if we are to see anything. They converted the experience of one-thing-after-another into a narrative plot. No longer was time passing away, empty and irredeemable, tick-tick-tick; it now had meaning and an ending, tick-tock."

This is only the begin of internal organ sound amplification. Where is the swallowable subwoofer?

I love this. The implications of architecture on mental health is under-explored.

We make place with whatever tools we have.
Recent Photos
Recently Read
Categories
Archives