Spot the wall
While the debate rages about whether The Great Wall of China can or cannot be seen from orbit, I can confirm that it can at least be seen from an airplane on a clear day. What a treat on my approach to Beijing.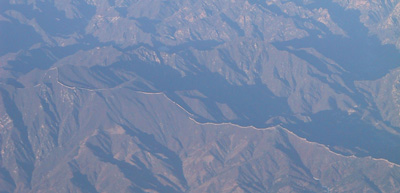 Hi, I'm John Tolva!

I'm a co-founder of
Cityfi
, a strategic urban consultancy.
This is all my other stuff.
Here's
a little bit about me
and how to get in touch.
Marginalia
Solar panels reflecting moonlight as bitmap art.

"We should redirect some of that energy toward building excellent dumb cities — cities planned and built with best-in-class, durable approaches to infrastructure and the public realm."

The architecture of strip clubs. Boxy, unadorned, and usually pink. Lots of parking.

Excellent in-browser introduction to sound synthesis.

I would have DJ battled for this role.

HyperCard changed my life.

Nature wins, always.

"Perhaps it's time for the rule of nature to be incorporated into the software that is used to design buildings and offices."

I blame clueless motorists.

Would be cool to just let records to be played hang in zero g.
Recent Photos
Recently Read
Categories
Archives