Scapegoat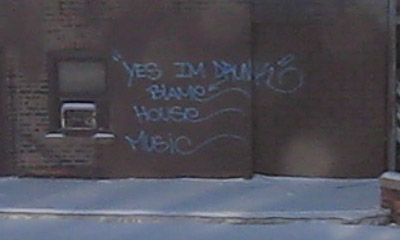 Though I am not the author of this particular graffito I do agree. Typically when anything goes wrong in my life I blame house music.
Hi, I'm John Tolva!

I'm a co-founder of
Cityfi
, a strategic urban consultancy.
This is all my other stuff.
Here's
a little bit about me
and how to get in touch.
Marginalia
The architecture of strip clubs. Boxy, unadorned, and usually pink. Lots of parking.

Excellent in-browser introduction to sound synthesis.

I would have DJ battled for this role.

HyperCard changed my life.

Nature wins, always.

"Perhaps it's time for the rule of nature to be incorporated into the software that is used to design buildings and offices."

I blame clueless motorists.

Would be cool to just let records to be played hang in zero g.

Unsurprisingly the Japanese have a corner on this market.

Remix and flow. From my grad school thesis advisor!
Recent Photos
Recently Read
Categories
Archives