Metropolitan Information Architecture and other mouthfuls
Returning to my info design roots this weekend as I give a talk at the IA Summit in Phoenix on city design. But this one's a bit different. It's a call to arms, the other half of a talk I gave last year to architects of the physically-built environment. I'll be presenting with my grad school colleague and pal, Don Turnbull. Here's his preview and the full details. UPDATE: Here's audio from the talk and our slides.
Stretching a bit further, I will be speaking at the Metropolitan Planning Council of Chicago on April 21 on a panel called Talking the Walk: The Importance of Pedestrian-Friendly Public Spaces. I'm honored to share 90 minutes with Sam Schwartz and -Joe Gonzalez- Mike Toolis and am fully prepared for quizzical looks as I try to explain the importance of walkability from the perspective of information network design. Full details here. UPDATE: Recap here.
PS – Mouths-full?
Hi, I'm John Tolva!

I'm co-founder of
CityFi
, a strategic urban consultancy.
This is all my other stuff.
Here's
a little bit about me
and how to get in touch.
Views From The Tank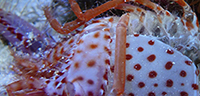 Molted carapace, Debelius reef lobster
Upcoming
Business of Design Week 2016
Kowloon, Hong Kong
Dec. 3, 2016
Details ...
Marginalia
"Italy is a recent invention and still not entirely complete."

It follows.

"You assholes only have yourselves to blame."

Survived a flood too. Battlehorse!

Probably saved money too!

Architectural facade-as-museum. Love that these are now cataloged online. Love the tactility of the street-level pieces. Don't love that some of this is straight-up cultural imperialism.

We're returning to a pre-mass printing era of integrated information visualization.

Maddon should get the whole team to do this.

Reminds me when I would build LEGO spaceships specifically to throw them into the ceiling fan.

"Brawndo's got what plants crave."
Recent Photos
Places Visited Recently
Warning
: simplexml_load_file(): http://feeds.foursquare.com/history/5eed41ab118a5f170d57b9f6f6eb5f6c.rss?count=5:32: parser error : Specification mandate value for attribute ng-include in
/home/jntolva/descentstage/wp-content/plugins/foursquare-checkins/foursquare-checkins.php
on line
104
Warning
: simplexml_load_file(): <div ng-include src="'/static/templates/deployStarter.html'"></div> in
/home/jntolva/descentstage/wp-content/plugins/foursquare-checkins/foursquare-checkins.php
on line
104
Warning
: simplexml_load_file(): ^ in
/home/jntolva/descentstage/wp-content/plugins/foursquare-checkins/foursquare-checkins.php
on line
104
Warning
: simplexml_load_file(): http://feeds.foursquare.com/history/5eed41ab118a5f170d57b9f6f6eb5f6c.rss?count=5:32: parser error : attributes construct error in
/home/jntolva/descentstage/wp-content/plugins/foursquare-checkins/foursquare-checkins.php
on line
104
Warning
: simplexml_load_file(): <div ng-include src="'/static/templates/deployStarter.html'"></div> in
/home/jntolva/descentstage/wp-content/plugins/foursquare-checkins/foursquare-checkins.php
on line
104
Warning
: simplexml_load_file(): ^ in
/home/jntolva/descentstage/wp-content/plugins/foursquare-checkins/foursquare-checkins.php
on line
104
Warning
: simplexml_load_file(): http://feeds.foursquare.com/history/5eed41ab118a5f170d57b9f6f6eb5f6c.rss?count=5:32: parser error : Couldn't find end of Start Tag div line 32 in
/home/jntolva/descentstage/wp-content/plugins/foursquare-checkins/foursquare-checkins.php
on line
104
Warning
: simplexml_load_file(): <div ng-include src="'/static/templates/deployStarter.html'"></div> in
/home/jntolva/descentstage/wp-content/plugins/foursquare-checkins/foursquare-checkins.php
on line
104
Warning
: simplexml_load_file(): ^ in
/home/jntolva/descentstage/wp-content/plugins/foursquare-checkins/foursquare-checkins.php
on line
104
Warning
: simplexml_load_file(): http://feeds.foursquare.com/history/5eed41ab118a5f170d57b9f6f6eb5f6c.rss?count=5:35: parser error : Specification mandate value for attribute ng-view in
/home/jntolva/descentstage/wp-content/plugins/foursquare-checkins/foursquare-checkins.php
on line
104
Warning
: simplexml_load_file(): <div ng-view></div> in
/home/jntolva/descentstage/wp-content/plugins/foursquare-checkins/foursquare-checkins.php
on line
104
Warning
: simplexml_load_file(): ^ in
/home/jntolva/descentstage/wp-content/plugins/foursquare-checkins/foursquare-checkins.php
on line
104
Warning
: simplexml_load_file(): http://feeds.foursquare.com/history/5eed41ab118a5f170d57b9f6f6eb5f6c.rss?count=5:38: parser error : Opening and ending tag mismatch: body line 25 and div in
/home/jntolva/descentstage/wp-content/plugins/foursquare-checkins/foursquare-checkins.php
on line
104
Warning
: simplexml_load_file(): </div> in
/home/jntolva/descentstage/wp-content/plugins/foursquare-checkins/foursquare-checkins.php
on line
104
Warning
: simplexml_load_file(): ^ in
/home/jntolva/descentstage/wp-content/plugins/foursquare-checkins/foursquare-checkins.php
on line
104
Warning
: simplexml_load_file(): http://feeds.foursquare.com/history/5eed41ab118a5f170d57b9f6f6eb5f6c.rss?count=5:41: parser error : Opening and ending tag mismatch: html line 2 and body in
/home/jntolva/descentstage/wp-content/plugins/foursquare-checkins/foursquare-checkins.php
on line
104
Warning
: simplexml_load_file(): </body> in
/home/jntolva/descentstage/wp-content/plugins/foursquare-checkins/foursquare-checkins.php
on line
104
Warning
: simplexml_load_file(): ^ in
/home/jntolva/descentstage/wp-content/plugins/foursquare-checkins/foursquare-checkins.php
on line
104
Warning
: simplexml_load_file(): http://feeds.foursquare.com/history/5eed41ab118a5f170d57b9f6f6eb5f6c.rss?count=5:43: parser error : Extra content at the end of the document in
/home/jntolva/descentstage/wp-content/plugins/foursquare-checkins/foursquare-checkins.php
on line
104
Warning
: simplexml_load_file(): </html> in
/home/jntolva/descentstage/wp-content/plugins/foursquare-checkins/foursquare-checkins.php
on line
104
Warning
: simplexml_load_file(): ^ in
/home/jntolva/descentstage/wp-content/plugins/foursquare-checkins/foursquare-checkins.php
on line
104
Warning
: Invalid argument supplied for foreach() in
/home/jntolva/descentstage/wp-content/plugins/foursquare-checkins/foursquare-checkins.php
on line
112
Recently Read
Categories
Archives