Views From The Tank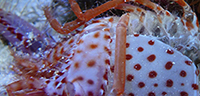 Molted carapace, Debelius reef lobster
Marginalia
Data analysis brick-by-brick. They're getting darker.

The labels being fitted on to the plastic ball containers may be the most impressive of all.

This is so damn good.

Plastic surgery.

Cowboys: the original rappers?

"If the person in front of me reclines, then I must recline to reclaim the precious few inches stolen from me, and so the person behind me must recline, and so on, leading to an extended chain of discomfort. Call it trickle-down rudeness."

No, but this is still cool.

I love this fellow.

Part library, part torture chamber.

" I like the unbuilt environment – the place where the architecture leaves off. Is there way to structure that nothingness in a photograph?"
Recent Photos
Places Visited Recently
Recently Read
Categories
Archives