Views From The Tank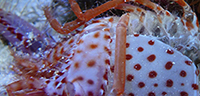 Molted carapace, Debelius reef lobster
Marginalia
No, but this is still cool.

I love this fellow.

Part library, part torture chamber.

" I like the unbuilt environment – the place where the architecture leaves off. Is there way to structure that nothingness in a photograph?"

I have loved Ramelli's wheel since grad school.

Crazy attention to detail on typography, chess, and lots of other things in Blade Runner.

Action is more important.

One of the many reasons I love the show.

First pitch at a Japanese baseball game is a face-off between The Ring and The Grudge. So uniquely, wonderfully Japan.

Modularity as dismemberment.
Recent Photos
Places Visited Recently
Recently Read
Categories
Archives