Views From The Tank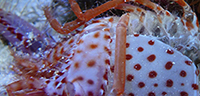 Molted carapace, Debelius reef lobster
Appearances
National Association of Motor Vehicle Boards and Commissions Fall Workshop
Denver, CO
Sept. 16, 2016
Details (PDF) ...
Marginalia
Gopher was my gateway drug.

What Makes a McMansion Bad Architecture?

Ferragosto can be lonely for the homebound. Bravo, polizia!

See also Millennium Park, Chicago. But not on purpose.

Surprisingly complex and beautiful.

"... for most people working on such projects, the goal is basically to provide for themselves everything that their mothers no longer do."

Emoji from the master.

Data analysis brick-by-brick. They're getting darker.

The labels being fitted on to the plastic ball containers may be the most impressive of all.

This is so damn good.
Recent Photos
Recently Read
Categories
Archives