Hi, I'm John Tolva!

I'm co-founder of
CityFi
, a strategic urban consultancy.
This is all my other stuff.
Here's
a little bit about me
and how to get in touch.
Views From The Tank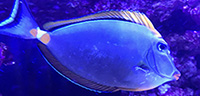 Naso Blonde Tang (Naso elegans)
Marginalia
"The intersection of mathematics, marine biology, handicraft and community art practice, and also responds to the environmental crisis of global warming and the escalating problem of oceanic plastic trash."

"This is what a conference of black holes, isotopes, fossils, ghosts and nerve endings sounds like. Listening in is to be at sound's most distant edge; there is nothing audible beyond this point."

Son, back in the day we made these mosaics by hand. With pieces missing.

Lasers for walkability.

He's right about the Pink Line view at sunrise (sunset too).

Um, wouldn't this be better as a belt buckle? Thump right to the gut.

"ANBF has taken advantage of Article 50 of Spain's Cemetery Law, which prohibits the construction of new buildings with 300 meters of a cemetery."

The perverse beauty of dystopia.

"He believed that a clear revelation of the facts of African American life and culture would challenge the claims of biological race scientists influential at the time, which proposed that African Americans were inherently inferior to Anglo-Americans."

Never mind the black cabs; Uber is out to disrupt the bus.
Recent Photos
Places Visited Recently
Recently Read
Categories
Archives