Negril, Jamaica
May 2012. Eight couples of college friends all turning 40 this year, a 16th wedding anniversary, rum, reefs, and a commemorative mix of reggae and its descendants, below.
We kept the spirit alive with a dinner party this weekend after returning home. Jamaican theme, of course.
Shellfish watermelon ceviche (with scallops and shrimp, photo below)
Jerk vegetables (summer squash, zucchini and mushrooms) and chicken skewers
Red snapper in coconut curry broth
Coconut lime rice
Avocado, orange and goat cheese salad
Appleton rum cake
Mango sorbet
Rum cream over ice
Full photo set here.
Hi, I'm John Tolva!

I'm co-founder of
CityFi
, a strategic urban consultancy.
This is all my other stuff.
Here's
a little bit about me
and how to get in touch.
Views From The Tank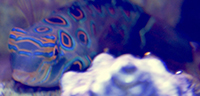 Mandarinfish (Synchiropus splendidus)
Upcoming
ABET Symposium 2017 Plenary
Baltimore, MD
April 21, 2017
Details ...
Marginalia
Simple, interactive visualization for system dynamics.

April 13 commemoration of "the three brave fish who lost their lives in the fire": At 5 p.m., the Cricket will hold a funeral complete with bagpipes and dancers.

"What if our buildings were long instead of tall?"

Surprisingly sonorous. Dig the Indian sub-continent trill.

Depaving design fiction from Alex Steffen.

wait. by Chef Myke

Music created by artists, fine-tuned by machines, responding to your natural rhythms to help you rest.

The planet's canary corpse in the coal mine. But let's deny it, no?

Saying Americans can rely on wireless alone is like saying, "Who needs airports? We have airplanes!"

Sounds like a Type II Civilization to me, right Fermi?
Recent Photos
Places Visited Recently
Warning
: simplexml_load_file(): http://feeds.foursquare.com/history/5eed41ab118a5f170d57b9f6f6eb5f6c.rss?count=5:32: parser error : Specification mandate value for attribute ng-include in
/home/jntolva/descentstage/wp-content/plugins/foursquare-checkins/foursquare-checkins.php
on line
104
Warning
: simplexml_load_file(): <div ng-include src="'/static/templates/deployStarter.html'"></div> in
/home/jntolva/descentstage/wp-content/plugins/foursquare-checkins/foursquare-checkins.php
on line
104
Warning
: simplexml_load_file(): ^ in
/home/jntolva/descentstage/wp-content/plugins/foursquare-checkins/foursquare-checkins.php
on line
104
Warning
: simplexml_load_file(): http://feeds.foursquare.com/history/5eed41ab118a5f170d57b9f6f6eb5f6c.rss?count=5:32: parser error : attributes construct error in
/home/jntolva/descentstage/wp-content/plugins/foursquare-checkins/foursquare-checkins.php
on line
104
Warning
: simplexml_load_file(): <div ng-include src="'/static/templates/deployStarter.html'"></div> in
/home/jntolva/descentstage/wp-content/plugins/foursquare-checkins/foursquare-checkins.php
on line
104
Warning
: simplexml_load_file(): ^ in
/home/jntolva/descentstage/wp-content/plugins/foursquare-checkins/foursquare-checkins.php
on line
104
Warning
: simplexml_load_file(): http://feeds.foursquare.com/history/5eed41ab118a5f170d57b9f6f6eb5f6c.rss?count=5:32: parser error : Couldn't find end of Start Tag div line 32 in
/home/jntolva/descentstage/wp-content/plugins/foursquare-checkins/foursquare-checkins.php
on line
104
Warning
: simplexml_load_file(): <div ng-include src="'/static/templates/deployStarter.html'"></div> in
/home/jntolva/descentstage/wp-content/plugins/foursquare-checkins/foursquare-checkins.php
on line
104
Warning
: simplexml_load_file(): ^ in
/home/jntolva/descentstage/wp-content/plugins/foursquare-checkins/foursquare-checkins.php
on line
104
Warning
: simplexml_load_file(): http://feeds.foursquare.com/history/5eed41ab118a5f170d57b9f6f6eb5f6c.rss?count=5:35: parser error : Specification mandate value for attribute ng-view in
/home/jntolva/descentstage/wp-content/plugins/foursquare-checkins/foursquare-checkins.php
on line
104
Warning
: simplexml_load_file(): <div ng-view></div> in
/home/jntolva/descentstage/wp-content/plugins/foursquare-checkins/foursquare-checkins.php
on line
104
Warning
: simplexml_load_file(): ^ in
/home/jntolva/descentstage/wp-content/plugins/foursquare-checkins/foursquare-checkins.php
on line
104
Warning
: simplexml_load_file(): http://feeds.foursquare.com/history/5eed41ab118a5f170d57b9f6f6eb5f6c.rss?count=5:38: parser error : Opening and ending tag mismatch: body line 25 and div in
/home/jntolva/descentstage/wp-content/plugins/foursquare-checkins/foursquare-checkins.php
on line
104
Warning
: simplexml_load_file(): </div> in
/home/jntolva/descentstage/wp-content/plugins/foursquare-checkins/foursquare-checkins.php
on line
104
Warning
: simplexml_load_file(): ^ in
/home/jntolva/descentstage/wp-content/plugins/foursquare-checkins/foursquare-checkins.php
on line
104
Warning
: simplexml_load_file(): http://feeds.foursquare.com/history/5eed41ab118a5f170d57b9f6f6eb5f6c.rss?count=5:41: parser error : Opening and ending tag mismatch: html line 2 and body in
/home/jntolva/descentstage/wp-content/plugins/foursquare-checkins/foursquare-checkins.php
on line
104
Warning
: simplexml_load_file(): </body> in
/home/jntolva/descentstage/wp-content/plugins/foursquare-checkins/foursquare-checkins.php
on line
104
Warning
: simplexml_load_file(): ^ in
/home/jntolva/descentstage/wp-content/plugins/foursquare-checkins/foursquare-checkins.php
on line
104
Warning
: simplexml_load_file(): http://feeds.foursquare.com/history/5eed41ab118a5f170d57b9f6f6eb5f6c.rss?count=5:43: parser error : Extra content at the end of the document in
/home/jntolva/descentstage/wp-content/plugins/foursquare-checkins/foursquare-checkins.php
on line
104
Warning
: simplexml_load_file(): </html> in
/home/jntolva/descentstage/wp-content/plugins/foursquare-checkins/foursquare-checkins.php
on line
104
Warning
: simplexml_load_file(): ^ in
/home/jntolva/descentstage/wp-content/plugins/foursquare-checkins/foursquare-checkins.php
on line
104
Warning
: Invalid argument supplied for foreach() in
/home/jntolva/descentstage/wp-content/plugins/foursquare-checkins/foursquare-checkins.php
on line
112
Recently Read
Categories
Archives