Chicago's Design 50
Despite the portrait of me in the piece (possibly the most unintentionally sad snap ever), I am very honored to be included in this list of designers in Chicago. Happier still that the definition of designer seems to be expanding.
Here's the full article.
Views From The Tank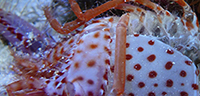 Molted carapace, Debelius reef lobster
Appearances
New Cities Summit: The Age of Urban Tech
Montreal, Quebec
June 21-22, 2016
Details ...
Marginalia
"Before SimCity, few outside the realm of urban planning and civil engineering had a clear mental model of how cities worked, and none were able to twiddle the knobs of urban life to produce counterfactual outcomes. We probably still can't do that at the level of complexity of an actual city, but those who play these types of games do have a better understanding of the general effects of their actions. We need to get better at 'playing' simulations of the technological world more generally."

Impossible for me not to love every part of this.

Because the internet can.

Kinda changes the movie narrative.

So many reasons to make this an important issue and none of them have to do with aquariums or tourism.

As if you needed another reason to hail Szczur. Amazing human being.

"A burglar comes along and says, 'Look, I'm not going to follow the path that you, the architect, have laid out for me.'"

"New York in the Age of Informatics"

"Ultimately, however, it is the image of the artist, alone at night in his own studio, with the machines warmly glowing, the record button permanently on with nothing but themselves and their imagination, having the freedom and technology to be creative, that the Detroit techno ethos takes musically from Prince."

We are doomed.
Recent Photos
Places Visited Recently
Recently Read
Categories
Archives