LAN party
Sometimes a shared music library pops up from somewhere on your LAN segment and it becomes your mission to hunt down its owner.
An example. This library comes from someone who uses "party" as a verb. A lot.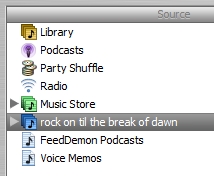 But which co-worker?
Hi, I'm John Tolva!

I'm a co-founder of
Cityfi
, a strategic urban consultancy.
This is all my other stuff.
Here's
a little bit about me
and how to get in touch.
Marginalia
"It's easy to grow disenchanted with the ways time has swept the Chicago of High Fidelity away, but those of us who lived through that era should remember that we've changed too."

First paid state holiday recognizing a woman in the US. Still a celebration of Italian-Americans.

Round of applause due here.

"The city is not a lab."

More of this please.

Astronomy, marine biology, and my friend Lulu!

Bias is everywhere.

Back to reel-to-reel it is!

Illustrated manuscripts as bad action comics.

Paging Albert Speer.
Recent Photos
Recently Read
Categories
Archives