Little Glimmers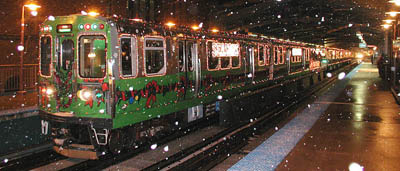 It may not be a Miracle on 34th St., but the annual CTA Holiday Train is fairly amazing. I happen to love this little tradition. The L adds a flatbed car and lets Santa and his reindeer and elves ride it. Each of the passenger cars is extensively decorated and staffed by CTA volunteers dressed as elves. Holiday tunes are piped in. The best part of it all is watching kids on the street look up and spot Santa and his crew flying past on the elevated tracks — as close as they will ever come to actually seeing the sleigh airborne, I'd wager. Note that this is wintertime Chicago. The wind on that flatbed car has to slice through the volunteers like so many daggers. Yet, they are all cheer.
This year the effort was unusually heroic because of the financial straits the CTA finds itself in. First they cancelled the special train over guilt at the operational costs and in light of upcoming layoffs. Then they reinstated it after the public made it clear that this was unacceptable. I believe the CTA came to realize that their efforts at winning the hearts and minds of its riding public in the PR war for better funding was ultimately more important than the costs involved.
For me, the once-yearly sight of a car full of passengers actually smiling and speaking to one another — rather than diligently avoiding eye contact as is normal behavior on the L — in itself is a great thing, a gift of sorts.