The Genographic Project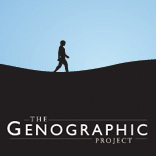 OK, I'm pretty excited about this project. Today National Geographic and IBM announce a five-year partnership to map the patterns of dispersal and change of human DNA across the Earth. The goal is to develop an accurate picture of ancestral human migration patterns by analyzing genetic markers — mutations transmitted from generation to generation — in blood samples and cheek swabs from people all around the world. This is forensics on a global scale, macrogenealogy.
What makes this project unique, I think, is the opportunity for public participation. In addition to the indigenous populations that comprise a major part of the study, interested people anywhere can purchase a cheek swab kit and submit their cells for analysis. The process is completely anonymous. All your cells get is a barcode. The results can be interesting, sometimes dismantling preconceptions about one's family lineage going way back. (One Italian-American IBM executive who participated in an early test was shocked to learn that his family line extended into the mountains of Iran. How his family got there from Africa is one question that this project hopes to answer.) Once you submit your cells and the DNA is analyzed you can log in to the site and see the migration patterns, such as they are known at that point, of which your family is a part.
This will be controversial, no doubt. Society itself (not to mention the racist mind) depends on a firm belief in where people come from, who they are, and who they are not — however dubiously tied to fact these beliefs may be. But better to know the real shape of the family tree than only to imagine it, no?
Info on the specifics of IBM's involvement is available. Some coverage here and elsewhere.