LAN party
Sometimes a shared music library pops up from somewhere on your LAN segment and it becomes your mission to hunt down its owner.
An example. This library comes from someone who uses "party" as a verb. A lot.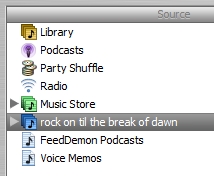 But which co-worker?
Hi, I'm John Tolva!

I'm a co-founder of
Cityfi
, a strategic urban consultancy.
This is all my other stuff.
Here's
a little bit about me
and how to get in touch.
Marginalia
Interface design fundamentals by way of LEGO bricks and a dive into Soviet control panels? /swoon

This sample size of one agrees.

This warmth is what I miss most about Chicago.

"Noesis now includes a Roomba script. It will track your Roomba, store tracking data, allow you to visualize that data in a variety of ways, and, of course, turn that data into a randomized DOOM map."

Architects love it when real life looks like a plan diagram.

Competition closed to design the worst possible logo. Smorts!

Late capitalism. Early zombie outbreak.

Wonderfully soothing. Kraftwerk had this figured out way back with Trans-Europe Express.

How to make a miniature blood-drowned elevator lobby.

"And it gets worse. We're out of toilet paper."
Recent Photos
Recently Read
Categories
Archives