I don't really mind blizzards
There is a running joke in my family that my brother-in-law is the only person ever to have to evacuate the same hurricane twice. He fled Hurricane Georges in 1998 from Tampa to the safety of relatives in New Orleans. And then had to flee again back to Florida when the storm took aim for the Crescent City.
I'm not sure we'll joke about this anymore.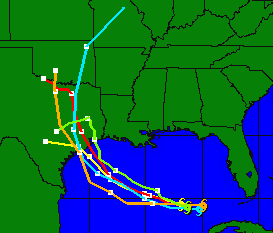 Rearranging my wife's family from Louisiana and Texas to account for Katrina and now Rita is becoming a logistical game of chess with Mother Nature. Five grandparents and six sets of aunts, uncles, and cousins fled Katrina. The cruel irony is that they are all mostly lined up in towns stretching from coastal Texas, to Houston, to Austin — the precise path of Rita. Flooding likely won't hobble Houston and Austin (though at this rate even inland Austin will be dealing with a category two hurricane), but when power goes out those scorching cities will be very dangerous places to stay. So, the family exodus begins again. Destination Dallas.
Last report is that my sister-in-law and nephew had moved 32 miles out of Houston in 4 hours.