FightAIDS@Home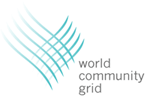 Lots of great new things happening at the World Community Grid. It seems like it has been running for a lot longer than a year, but our first birthday just passed and we're happy to announce a new project running on the grid to contribute to AIDS research. FightAIDS@Home uses computational methods to identify new candidate drugs to block HIV protease, a key molecular structure that, when blocked, stops the virus from maturing.
For the last year the World Grid ran the Human Proteome Folding Project, which has been providing scientists with data on how individual proteins within the human body affect health, enabling them to develop new cures for diseases like lyme disease, malaria and tuberculosis. Scientists now have descriptions of 120,000 protein domains that are critical to human well-being.
Also new is section for children at sister-site TryScience.org that explains the concept behind grid.
If you're unfamiliar with the Grid project, it basically allows you to use idle processor cycle time (or share it with other apps) to conrtibute to large, distributed computationally-intensive problems. A great way to participate in meaningful research.
Yes, I'm still hoping for a humanities-related grid project, but it is hard to argue for limited resources when there are so many humanitarian and life sciences challenges to solve.