Winter dreaming
Holy mackeral it was cold today! Not a day for Christmas shopping up and down State Street. ('Course, when is?) I'm going to my happy place. Right. Now. Damnit.
Here's me in 2003 outside Barile, Italy, where Horace composed part of his Odes, excerpted below. In the background is the extinct (yeah, right) volcano Vulture. In the foreground is my belly filled with lovely Aglianico del Vulture wine.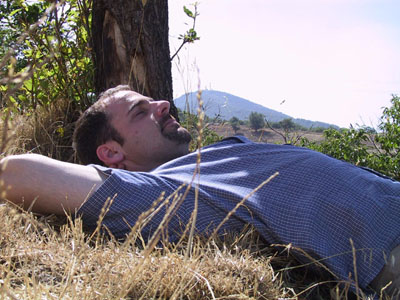 In childhood's days, on trackless Vultur,
beyond the borders of old nurse Apulia,
when I was tired with play and overcome
with sleep,
the doves of story covered me o'er with
freshly fallen leaves, to be a marvel to all who
dwell in lofty Acherontia's nest and Bantia's
glades, and the rich fields of Forentum in the dale —
how I slept safe from bears and black
serpents, how I was overspread with sacred
bay and gathered myrtle, with the gods' help a
fearless child.