Cord-free
My guess is that the biggest complaint about the iPod and portable music players is the headphone cord. You do have to wonder about outtake footage from the famous iPod silhouette commercials — dancers getting entangled, accidentally ripping the earbuds out violently, cursing, storming out from in front of the chroma screen.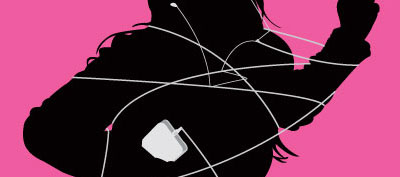 The cord is a particular pain in the ass for me, especially in the winter when I am bundled tightly with the cord wrapped into my scarf and the iPod buried deep in my coat. Add to that the hassle of basically undressing to make it through the metal scanners at my security-obsessed office building. So, it was a special treat to receive a pair of Plantronics 590a stereo Bluetooth headphones for Christmas. There are a few of these on the market now and because of the lack of devices that support the A2DP Bluetooth profile (or lack Bluetooth support at all, like the iPod), Plantronics includes a dongle that hangs off the headphone jack and pairs with the headphones. Conveniently, if a phone call comes in to your Bluetooth phone while you are listening to music you can easily switch over and talk. There is a small, clear telescoping tube that you can pull out as a microphone boom. When not in use it is hidden away. Actually the physical design of the headset is the nicest thing about it. Slightly retro with robotic-looking hinges, the 590a inverts to sit in its charger and pulses red and blue to indicate status.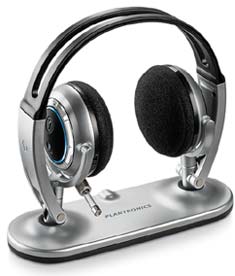 This morning was the first real-world test: the L train commute to work. The headphones worked great on the walk to the station, hugging my hat over my ears. Waiting for the train, the flashing blue light on the headset (indicating a strong pairing) literally lit up dark train platform. A bit too bright, I'd say. I can only imagine how annoying this will be to fellow flyers on an airplane. About 20 minutes into the trip the headphones started to drop occasionally, at first for only a millisecond and then for a second or two at a time. Worrisome. That's basically a showstopper. I'm wondering if it has to do with Bluetooth interference from other devices on the train.
And so I embark on a time-honored post-holiday tradition: contacting tech support.
UPDATE: It did have to do with Bluetooth interference, but from my own phone. I unpaired the phone and the drops stopped. In fact, I re-paired it and the drops have not returned. Interesting. This bit of sleuthing was no thanks to Plantronics tech support which gets a D- for a crappy attitude and absolutely no clue about the dropouts. "Just return it for a new one," they said. That's the consumer electronics version of "um, have you tried rebooting?"