Feedbag

Turns out the new blog + marginalia feed was not updating. Should be fine now. Also, by popular request I have added a feed that contains blog posts plus reader comments. Happy feeding.
Views From The Tank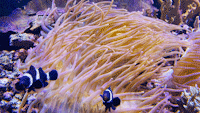 Clowns at the circus
Marginalia
The condiutions and accomplishments that this story described laid the foundation for the beginning of my career.

"And so those fish are then left with less information about when it's safe to go out and eat and control these algae. And this feedback has these ecosystem-level consequences."

"It's not Columbus' fault that industry promises about the imminent arrival of self-driving cars were way overblown." ← Actually, it is Columbus' fault.

"Chicago has a weakness at its very foundations. The towering skyscrapers and temples of commerce were built upon a swamp."

The story of bootlegged records pressed to x-ray film in Soviet Russia.

This simple vernacular architecture is more complex than it seems.

Disguised Cell Towers of the American West

A photo of the city of Chicago, awkwardly described by Microsoft's computer vision AI.

Classic travel. Recommend.

Click anywhere on the map and watch a satellite fly-through of where a drop of water falling there will end up.
Recently Read
Categories
Archives