10,000
Last weekend I passed 10,000 music tracks played since I started logging them via Last.fm (then Audioscrobbler) exactly one year and one month earlier. Let's do the numbers.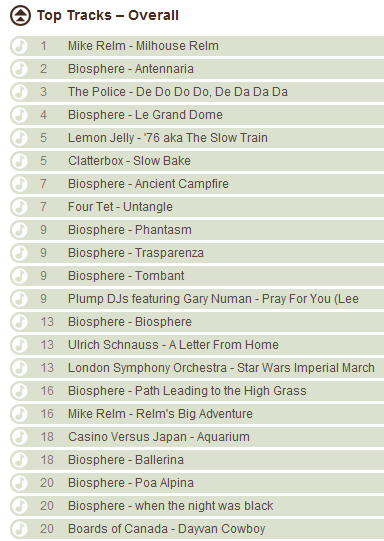 The children are contaminating my playlist. Three of the top five tracks (Milhouse Relm, a remix of the Simpsons theme, De Do Do Do, and The Slow Train) are those that I play as requests for my boys — nightly. All fine songs, of course, but not really indicative of my listening habits. It's like my wife using my Amazon profile. You know, I don't really care what people who bought the Epilator also bought.*
Nearly every other track is an ambient tune. This isn't fair either, really, since I often put on albums to fall asleep to, these albums invariably being downtempo. If only Audioscrobbler logged those tracks I actually heard as opposed to those I have played. EEG interface maybe?
I don't synch my iPod with iTunes so the tracks that I consider to be truly representative of my awake listening habits don't get logged. But then, am I really defined by what I listen to on my commute?
The Top Artists – Overall gives a much better sense of my last year of music. Interesting that Sufjan Stevens cracks the top 20 given that I only started listening to him last month.
What I'd really like to see in 2006 are richer visualizations of the Last.fm data. I'd love to see a schematic of artists over the course of a day. Also, richer data analysis. How often do I switch from artist X to artist Y? How many times did I queue up album Z before 3pm? That sort of thing. Does this exist?
[*] 13 and 16 are also kiddie tunes. What? Of course the Star Wars Imperial March is for the kids!