Azzurri per sempre!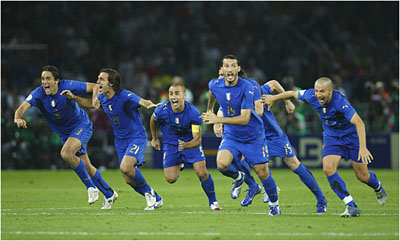 They should bronze this pose, Iwojima-like, and plop it out in front of the Colosseum.
Update: if they can make a fresco why not a sculpture?
Marginalia
Undoing value engineering, chapter 218.

"[E]very day, millions of phones are sending traffic to a beautiful photograph of a flower, but no one is able to actually witness its beauty. It's like a weird version of the butterfly effect — except for throwaway code."

It still whips the llama's ass.

🎶Rock lobster!

"There is actually no bigger city on earth to start that revolution than Lego City."

"His three-hour workouts, which he starts after lunch, sound vaguely like something I would never make it through at a CrossFit gym I would never attend."

Interesting merger of data sonification and dystopoian remixing of a classic.

Spoiler: there never were good old days.

Not all deadwax is a tabula rasa.

I can confirm that clams are finicky as hell about water quality. This is a smart idea.
Recently Read
Categories
Archives