Azzurri per sempre!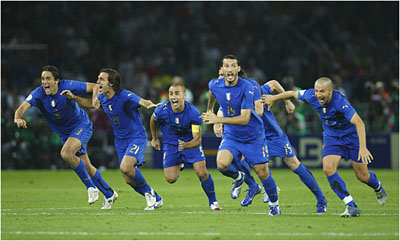 They should bronze this pose, Iwojima-like, and plop it out in front of the Colosseum.
Update: if they can make a fresco why not a sculpture?
Hi, I'm John Tolva!

I'm a co-founder of
Cityfi
, a strategic urban consultancy.
This is all my other stuff.
Here's
a little bit about me
and how to get in touch.
Marginalia
The deception of renderings.

An Emerald City you are not, but great job Chicago.

This cuts.

"Most purveyors of consumer electronics keep their consumers happy by constantly refining them until they're free of bugs. Ghost tech works the other way, by actively engineering glitches—the more, the better."

"This fear of lost luggage is so wildly blown out of proportion that sometimes, checking a bag feels like an act of rebellion."

Years ago websites were made of files; now they are made of dependencies.

All the K-Mart background music you could ever need.

Columbus Day needs to be dropped, but it did serve a higher purpose once upon a time.

Entrail-gnawing bookworms!

Has to go in the last line, in my opinion.
Recent Photos
Recently Read
Categories
Archives