Monsters and Saints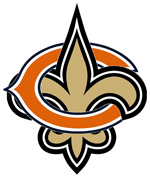 Well, this is an interesting turn of events.
Like most anyone who came of age in Chicago in the 80's I've been a Bears fan since their Super Bowl season under Ditka. I'm a fan. Not a die-hard who attends games shirtless in December, but a fan nonetheless.
Which is nothing compared to my wife's family. Born and mostly raised in New Orleans, they are living caricatures of all-for-the-team dedication. The day I met the men who were to become my father- and brother-in-law — December 28, 1991 — was a Saints playoff game against the Atlanta Falcons — the result of the Saints' first Division title ever. New Orleans came out strong but ended up blowing it.
I sat in wide-eyed horror as my girlfriend's brother swore, stomped, threw things, and beseeched God to smite Jerry Glanville (then Atlanta's coach) with a slow and painful death from cancer. My girlfriend's father also was disconsolate and enraged, switching from cursing the TV to reprimanding his son not to wish death on anyone. It was a surreal event and one that would repeat itself in style if not in substance during innumerable other football games on which serious money rather than lifelong passion were wagered.
As a long-time Cubs fan I know the perverse pleasure that comes from loving a loser, so I have always respected — if not fully understood — my in-laws' devotion to the Saints. I have in fact become something of a Saints fan vicariously. But as anyone who knows me or this blog, my heart is with Chicago always. I even mustered some pride when the White Sox won the World Series, I hesitate to type.
So, as Chicago barely squeaked into next week's confrontation with New Orleans today I received a hug from my son who said "congratulations, Daddy." I looked at him, looked at my wife shaking her head in anticipation of the inevitable, and said "son, you have one week to make a very serious decision about who you will cheer for next weekend."
"Oh that's easy," he said. "Who dat!?"