Ghana@50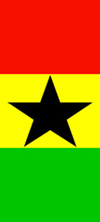 Today, the nation of Ghana and its sizable diaspora celebrate fifty years of independence from colonial rule.
My family, while not Ghanaian, feels a special affinity for the country. About six years ago, we first met Margaret Kumi, an experienced nanny looking for a new family. In short order she was part of ours, and we part of hers. She introduced us to the Twi language, Ghanaian foods, authentic kente cloth and a world much beyond our own. Margaret is no longer our nanny. She's more like a grandnanny, a Poppins-esque treat for the kids.
Seems like just yesterday I was getting emotional for a country I'd never been to as they marched further into the World Cup than anyone thought.
And mark your calendar Chicagoans. Ghanafest 2007 is right around the corner.