A different kind of Basilicatan homecoming
So what's the relationship like between the north and the south in Italy? In many ways it is similar to 19th century America where an industrialized, urbane north interacts with a rural, agrarian south. Yet, as in the American case, that's a gross simplification. Being independent states and kingdoms for most of their history, the individual regions of Italy have a much more complex relationship to one another than American states have ever had.
We need look only to current events for an example. Basilicata was recently in the news regarding the bizarre tale of a would-be assassin and the lingering effects of regional tension.
Giovanni Passannante, a native of Salvia, Basilicata, tried to kill King Umberto I of Italy 120 years ago. He failed, was jailed, and went insane. As further punishment, the kingdom of Italy forced his hometown to rename itself. You will find Salvia listed on maps today as Savoia di Lucania (Umberto was of the house of Savoy). But it didn't end there. Passannante's skull and brain were removed and preserved in formaldehyde for study by criminologists. They've been on display in a museum in Rome for the last 70 years.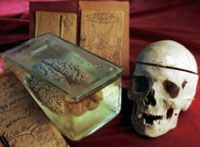 That is, until last week when the remains were to be publicly removed and interred with the rest of the body in a full ceremony in Basilicata. But that's not what happened. A day earlier than planned officials squirreled the remains away secretly to bury them with no fanfare. Certain activists, especially in the south, are upset.
"No one wanted to deal with this case," said Vito De Filippo, president of the Basilicata region. "No one had it in mind to confront this problem."

Others see nefarious forces at work. Pesce lays the blame directly at the feet of the current mayor of Lucania, Rosina Ricciardi, who he claims was under pressure from traditionalists in the region to delay the burial and who he says had hoped to put Passannante's remains once again on display, but this time in Lucania.

"In Italy there is a strong monarchical movement that should not be underestimated even though it seems ridiculous," Pesce said. Repeated calls to Ricciardi's office seeking comment were not returned.

De Filippo sees a parable in what could be the end of this long tale. "Passannante is a symbol of the south, and while everything is not resolved and the south still has many problems, we have the civility to close this story, by bringing him home."
Full story: Dead anarchist becomes cause célèbre in Italy. Ironically, friends in Italy tell me that this story is not receiving nearly the coverage at home as it is in US press.
Of course, America has its own conspiracy theory regarding a southern assassin and his remains.