Of wine and caves
"There's only one thing for certain. I will be back to Barile."
I wrote that on a private family blog in 2003 at the end of a visit to Barile. I had no idea I'd be returning so soon. Over the coming weeks I'll get into more about exactly why I'm headed back, but for now let's look at what an interesting place this small hamlet is.
Barile, Italy is in Basilicata, one of the twenty regions of Italy. It is the instep of the boot, not the toe (that's Calabria) and not the heel (that's Puglia, which the NY Times loves). Basilicata is also known by its ancient name, Lucania; people from Basilicata are referred to as Lucani. The region is still one of the poorest in Italy, though it has made much progress since the 1950's.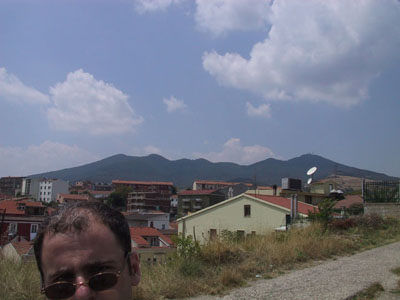 The town is situated on the slope of a gigantic, seven-peaked extinct volcano called Vulture. This geological phenom is the reason that the best wine in the region (really the best wine south of Rome) is made here. The volcanic soil and high elevation makes is the perfect environment for the late-blooming Aglianico grape. The particular local varietal, not surprisingly, is called Aglianco del Vulture and is sumptuous, a meal unto itself. Think of a Cabernet, then make it heavier and more tannic and you have Aglianico. It is not a light summer wine. In fact, it goes best if you can slay a wild boar with your bare hands and flame-roast it drenched in olive oil over a spit. When we did genealogical research in Barile in 2003 we learned that my great-great-great grandmother Carmela Paternoster, is an ancestor of Vito Paternoster, present-day owner of the Azienda Vinicola Paternoster, the premiere winery in Basilicata for the production of the Aglianico. Nice pedigree, eh?
Still, the town is rustic. I've been twice and never seen anyone under 30 who was not a child. Maybe this is changing as the region becomes more appealing to tourists and industry. It will be interesting to see in July. The town is known for the caves, called sassi, which line the ridge of soft rock underneath the town. Up until the 1950's this is where most townsfolk lived. In fact, many families are still in possession of the caves, such as my "cousin" (relationship unknown) Anita Di Tolve, who like most have converted it into a wine cellar/self-storage unit.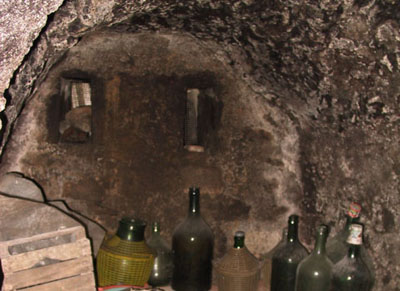 In 1993 when I was studying in Rome a buddy and I made a first trek to Barile. We were completely out of our element, barely speaking Roman Italian and arriving in the middle of siesta, but we did happen upon a man who understood us well enough to be intrigued that we were there in the first place. I can't recall his name, but I do remember that he took us straight to his family cave. In retrospect it was probably a foolish thing to do. Two American idiots following a man they could barely understand into a dank cave to drink his homemade hooch. But we did it, the wine did not kill us, and we emerged unscathed and frankly quite pleased with ourselves. More on this first trip to Barile later.
Vulture was also the stomping ground of the young Roman poet Horace. It is a bit of a claim to fame for the area. Up near the caldera of the volcano which is now a gorgeous lake is a plaque embedded in the terrain with a stanza from his Orations where he describes lounging on the slope of the mountain.