Wimbledon comes to Second Life (again)
One could argue that it was Wimbledon last year that really jump-started IBM's involvement in virtual worlds. Before all the hype, before the "but I need a first life!" meme, before IBM committed itself to the space, a small crew of talented developers out of Hursley, England capitalized on IBM's long relationship with Wimbledon* by creating a rudimentary centre court in Second Life. From there it's really a blur.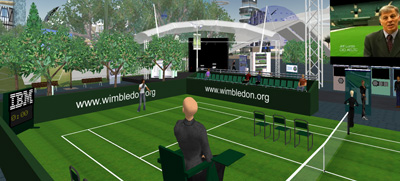 Fast forward a year and the new Wimbledon build on one of the official IBM islands is a good showcase of how far we've come. Real-time shot trajectory plotting in 3D, weather plotting, scoreboards, video playback, a shop, and a backdrop for posing your avatar against actual photos from the All England club.
Eightbar has the full scoop, of course.
If you've got Second Life, have a visit.
[*] After The Hermitage, the Wimbledon webcasts of 1999 and 2000 were my next projects in IBM. There's been nothing quite like the adrenalin of those days, coordinating live event coverage with outrageous traffic and no caching. (OK, almost nothing like it.)