What's better than a donut?
Why, a donut infused with homemade hard cider of course. We were nearing the end of last year's batch of cider (made from only the choicest hand-picked apples, you may recall) when I stumbled across this recipe. A perfect, autumnal ending to a fine hooch.
We woke early yesterday for Halloween, which is also my son Andrew's birthday, in order to have fresh donuts. My thinking was that there is no better way to start a day (much less a holiday or one's birthday) than to be greeted by the enveloping smell of deep-frying dough. Or deep-frying anything, really.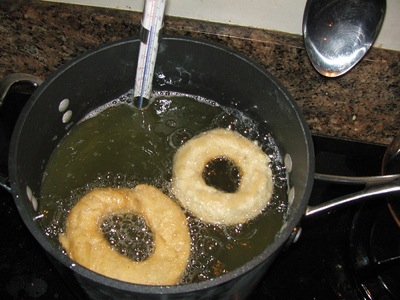 So, the batter is made with the cider as is the glaze. You can certainly taste it, a bit like rum cake. One does wonder what it would have been like with some of the paint-thinning Applejack from last year. The 90-proof donut. Some key moments in the donut assembly line here.
The apple crop this year was pretty bad, so no cider in 2008. But the wild raspberries were many. We're only a month away from bottling the brambleberry wine. Say, I wonder if there's such a thing as Raspberryjack?