Aural decoration or, further adventures in filtering one's music library
Last Saturday was our school fundraiser, an elaborate auction/party. One of those things you just don't think as being a big deal until you have children in school. The amount of planning required is only slightly less ridiculous than the amount of money raised.
Last year when planning began I was appointed in absentia to be the "entertainment chair", meaning the music guy. Naturally I envisioned myself on the decks slamming beats late into the night. But no, that wouldn't do. Couldn't really, as the focus needed to be on getting people to make outrageous bids for items, not crowded on a dance floor.
So I hired a band. Working with them put me right back in high school when playing keyboard in a band was pretty much the most important thing I had going. (You might remember such acts as The Jerks, Big Green Milk Truck, The Young Republicans, and Relativity. Wow, now there's a blog post that needs writing.) I had to resist every urge not to rent a smoke machine, 'cause, I mean, who can rock out without a smoke machine?
Anyway. There was also the issue of "interlude" music, what to play from my iPod during times the band was not on. Easily the most challenging playlist I've ever put together. What exactly is the mood that you want to set at an auction? Classical, too stuffy. Country, wrong demographic. Classic rock, too retro. Jazz, maybe, but either you like it or you don't. It was so much more difficult than I imagined. I needed an angle.
The city of Chicago helped me out. Apparently our local airports will soon play only music from bands from Chicago. They're covering all the genres, but leaving out really upbeat stuff. No Pumpkins or Ministry, probably no R. Kelly. The reasoning is that people are already on edge at an airport and don't need 160 BPM to push them off the cliff — a similar problem to my own, in a way.
So I sliced my music library by Chicago-based bands. There's no tag for this, of course, so it was all manual. Last.fm's tags helped out immensely — but wouldn't it be cool if Last.fm could actually add biographical data to MP3 headers? I added "chicago" to the grouping tag for all this music and put together a smart playlist to segregate it.
Andrew Bird
Califone
Chicago Underground Trio
Exploding Star Orchestra
Kanye West
Ministry
R Kelly
Sir Georg Solti and the Chicago Symphony Orchestra
Smashing Pumpkins
Styx (huh?)
Sufjan Stevens (honorary, only for Illinois)
Tortoise
Wilco
OK, fine, but that includes everything from Sir Georg Solti to Alain Jourgensen, neither appropriate. So, using Tangerine I generated a new playlist of Chicago-related band tracks between 100 and 145 beats-per-minute with medium intensity.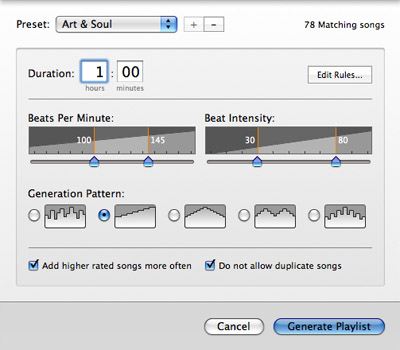 Lastly, I removed stuff that would, you know, upset those of fragile sensibility. Like, say Ministry's Stigmata: "School families, silent auction table three closes in — cutting my face and walking on splinters, I lost my soul to the look in your eyes!!! — whoops, sorry. Next track."
So what did I end up with? 239 tracks became 59, far more music than I needed. Full track list after the jump.
The method was dorky, both horribly imprecise and overly complex, and unknown to anyone that night. Yep, just right.
Next year: embedded subliminal messages. Bid more, you will bid more now!