Wood
Part one of the Ghanaian Handicraft series.
Wood-carving is one of the oldest craft traditions in Ghana. Wooden sculpture is produced throughout the country and has a high export value. Two weeks ago we visited the village of Ahwiaa to observe and talk to artisans trained in the traditional discipline.
Wood is delivered to them from the forests hewn roughly into the intended shape of the end product. From there small outdoor workshops of carvers set about shaping the objects into final form. The workshops are a welter of flying wood chips, sweat, and clanking. Masters silently instruct their apprentices.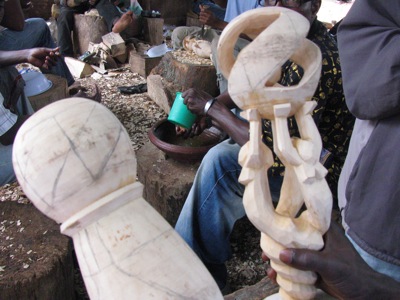 It all seems so random and haphazard, but obviously these gentlemen know what they are doing. And they are all gentlemen. Female woodworking is taboo mostly because of the posture assumed by artisans: the wood chunk is held between the legs and shaped there. Ghanaians disapprove of tools being used in the vicinity of female genitals.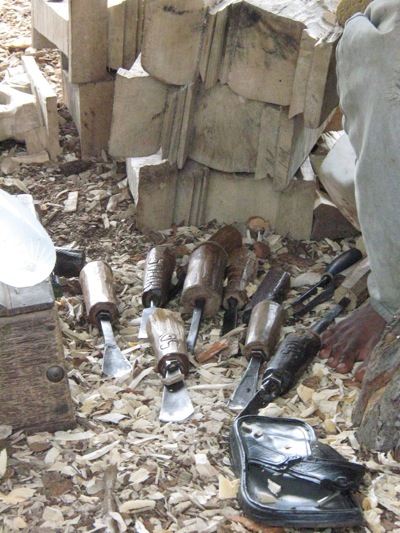 The artisans are preternaturally fit. They look carved from solid material too. The main implement is a metal gouge placed carefully on the wood and then struck by a mallet. The carvers wear two pairs of pants over one another for protection. The outer pants are ripped and frayed from numerous skewed strikes.
We visited the main woodworking area in Ghana, an area of the Ashanti region near Kumasi. Traditionally the king of the Ashanti (called the Asantahene, currently Otumfuo Nana Osei Tutu II) is the custodian of all arts in the region because of the historic relationship between craftsmanship and the royal house. What this means today is that he serves a quasi-governmental position of promotion and support for the arts, including being the nominal patron of our organization Aid to Artisans.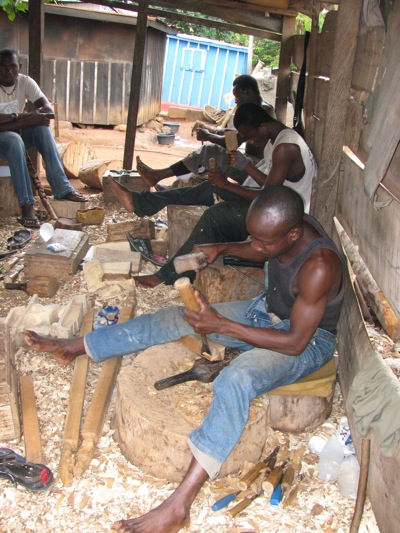 Aid to Artisans does more than just serve as a middleman for the producers. They hold courses on reforestation and forest management for their producers and recently purchased a small section of woodland as a kind of nursery/laboratory for the study of sustainability techniques.
And yet, it seems to be a losing battle. Every day I've seen huge trucks hauling massive felled trees. In fact they aren't really trucks, just two sets of wheels lashed to the mammoth trunks. Even in Kakum, which is protected by law, there is logging taking place. One wonders how much longer this art form can survive without importing lumber.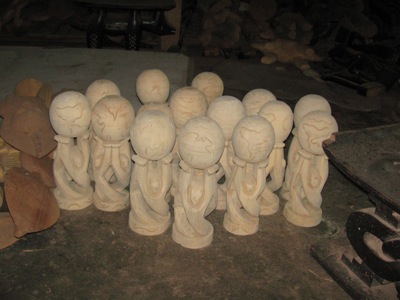 More wood-carving video here.