This is your tongue on LSD
Last night at a dinner party our host introduced us to something amazing.
After dinner but before dessert he passed around a box full of small red berries. We were instructed to take one, put it in our mouth, peel it with our teeth, and suck on it for about a minute. It was pleasing, somewhat sweet.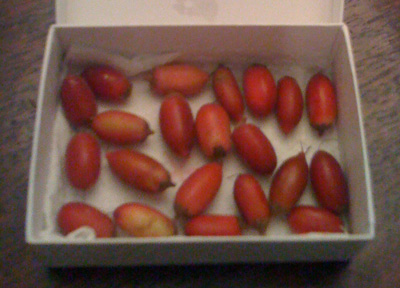 The berry is called the Miracle Fruit. What makes it special is a molecule in it, called miraculin, which binds to the tongue's taste buds and tricks them into mistaking sour for sweet, a synesthetic bait-and-switch that your mind struggles to comprehend.
Among other things we munched whole lemons (tasted like oranges), dill pickles (like huge gherkins, only sweeter), and drank straight vinegar (like Capri Sun). The effect lasted about an hour and had us scavenging the pantry for anything we could sample with our hallucinating taste buds.
It might be the best dinner party parlor trick ever.
Turns out these berries come primarily from Ghana where they were first employed to take the edge off of palm wine (which I can attest is mouth-invertingly sour). They are mostly a novelty in Ghana still; unlike the blister nut, there's no export market.
NPR has a story on the berry from last year.
The Ampcamper
Views From The Tank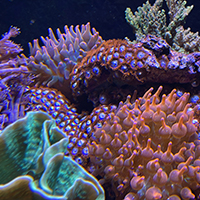 Full coralscape
Gravid With Decay
Short recommendations, reviews, and cautionary tales about horror in fiction (mostly movies). Read through the archives and subscribe here.
Marginalia
Is it urban form itself that makes ghosts or the lack of community?

If they can pull this off in Phoenix, it can be done anywhere.

"Our universe's history, fossilized in light."

Thinking like Africa is a solution.

The hack that made my summer camper trip possible.

Live air traffic audio from the world's airports overlaid on ambient tunes.

See where any living thing exists in a beautiful interactive taxonomy visualization.

Flipping between channels of my childhood.

More impressive than tool-usage.

Type at work in the real world.

You're probably not prepared for how enthralling this is.

Anti-bird spikes as nest material, keeping other birds out!

B♭ C A♭ 8vb A♭ E♭.

Trains, automobiles, and rocket ships, basically.

"The act of simplifying reality for a machine results in a great deal of complexity for the human."

Sara Benincasa on the beauty of The Bear.

Prescience for our current world from 1998.

"History is the long process of outsourcing human ability in order to leverage more of it. We will concede this trivia game (after a very long run as champions), and find another in which, aided by our compounding prosthetics, we can excel in more powerful and ever more terrifying ways."

AI neologisms. Could just link #termsfromtoday to this and never manually post again.

Science fiction becomes reality for fossil literature.

So much worse than the passive voice.

AI-generated imagery in the service of mythopoeic storytelling on a small town scale. (Follow via Instagram.)

"Dark magic box": The unique design opportunity of designing a marine ecosystem experience for visitors.

"A book with feedback"

Matt Kirschenbaum writes his own words about the "ongoing planetary spam event."

Meaning isn't 100% transitive.

A one-shot music video performed using only the reel-to-reel tape recorders.

Just because it was inevitable doesn't mean it isn't glorious.

Dan makes me nostalgic for Twitter 2007-2013.

Incredible instrument made from two Commodore 64s, floppy disks, tape and a giant dose of nerdery.

'Oh, that's tennis for non-athletes.'

Answer: barely, with a few modifications.

Some behind-the-scenes of my work life.

The All Iowa Lawn Tennis Club!

"Hell's Aquarium"

"Before we rolled out through the gate, I'd tell myself that I didn't need to worry, because I was already dead. The only thing that mattered was that I did my best to make sure everyone else came back alive."

"The problem wasn't that Sisyphus had to roll his boulder up a hill forever; it's that he had to roll it alone."

Same with me, clowns, same with me.

I'm here for the needless politicization of tennis versus pickeball.

Biomimicry meet reclaimed waste product.

"Cities are where we see each other.  People who don't want to see hate that."

How much do you know about lines?

Documentary on Minnesota's failed attempt at a city of the future in the late 1960's.

"Humanity, how are you doing on this beautiful Monday?"

Amazing visualization of European lighthouses showing light color, actual pattern, and radius of visibility.

An interesting data point, for sure, but this metric may be the best part: Stool Hardness and Transit (SHAT) score.

The exact time of day, pulled from books.

Einstein confirms.

Mapping magnetic fields to the audio spectrum.

So pretty you often don't stop to listen.

The greatest tribute ever penned by a child for a parent.

Humans walking through a city don't take the shortest route but the one that physically points them at their destination most consistently.

Placing this here to remind future me.

LIght pollution of course ruins this.

Clever. Would be even better using LEGO's bioplastic bricks.

It doesn't solve the problem to buy a hybrid and retrofit your house if all of that takes place 20 miles from your job.

Eno on urban design is masterful.

Railroad marketing ploy. But it's still quite nice here.

Particularly proud of this project from the Colorado Smart Cities Alliance.

"'There is an Italian phrase,' said Marco after we ordered our food. '"Li ti avvelenano", which translates to "there they will poison you." This is my prediction for the night.'"

Bringing together a few things I'm working on.

The condiutions and accomplishments that this story described laid the foundation for the beginning of my career.

"And so those fish are then left with less information about when it's safe to go out and eat and control these algae. And this feedback has these ecosystem-level consequences."

"It's not Columbus' fault that industry promises about the imminent arrival of self-driving cars were way overblown." ← Actually, it is Columbus' fault.

"Chicago has a weakness at its very foundations. The towering skyscrapers and temples of commerce were built upon a swamp."

The story of bootlegged records pressed to x-ray film in Soviet Russia.

This simple vernacular architecture is more complex than it seems.

Disguised Cell Towers of the American West

A photo of the city of Chicago, awkwardly described by Microsoft's computer vision AI.

Classic travel. Recommend.
Categories
Archives