1903
Departure
On the train to Naples the old ladies in black thought she was menstruating when she asked them for help disposing the bloody cloth. She let them think so. The train was cramped when they left Barile, but when it picked up passengers in Potenza it filled so full you merely leaned into others to maintain balance. It was not the place to make a public fuss over a choleric baby.
Living in a big, old city like Chicago is a four-dimensional experience. You move around the street grid, up high into skyscrapers, down into the underbelly of subway tubes, but time too is layered into the built things, seen only if you are looking, meshed into the streetscape like a discolored piece of gum that's just another part of the sidewalk. Until you look more closely at it.
The baby hadn't made a noise since they arrived at the port. He was swaddled up against Grazia tight enough that she'd feel it if his shallow breaths stopped. She sat down on the steamer trunk. Giuseppe, unsure which ship was theirs, barreled chest-first into the noisy confusion of Neapolitan seamen, stevedores, travelers, and common thieves. Grazia attempted to nurse, but she couldn't let down. The baby had not taken milk in eight days.
I knew that my great-grandparents had come to live in Chicago in the same way I know Mrs. O'Leary and Al Capone and Saul Bellow lived here — and with about as much tangible connection to same. Certainly I had occasion to think of their lives. Three times in 14 years I had trekked to their village in poor, arid southern Italy, learning a bit more each time, eventually being welcomed by their hometown as one of their own. And that was part of the problem. I could connect with them in Italy, but not here, in the town where they started a new life and became American.
Gibraltar was still in sight when baby Michele died. There were no facilities to keep his body on board. An Arbëreshë steward who heard his own strange accent echoed in the parents' sobbing drew Giuseppe close, felt the bitter waft of Amaro Lucano on the big man's breath, and told him that he could not emigrate with a corpse. Michele, tightly bound and ballasted, was lowered gently into the waves. Grazia heaved somewhere in a mass of ladies in black and rosaries. Giuseppe changed some of his dollars for lire and drank it away.
I had gone searching before, just before the last trip to Italy. I started at the end, hunting with my kids for a nondescript tomb marker. We found Giuseppe, buried Joseph Tolva, on a sweltering summer day that gave way to a torrential storm just as we found the house he lived in when he registered for World War I in 1915. But these were milestones only. Markers of events, not the experience of a life. I had the records from Italy, the scraps of US government documents from the period, even a few photographs, but what most eluded me was Giuseppe's connection to my city.
They had argued about taking the baby to America as sick as he was, but the passage was paid, the job was arranged, and the padrone was waiting in Chicago. There would not be a second chance. On July 28, 1903, nine days after they lost the only thing of importance they brought from Italy, Giuseppe and Grazie Tolve arrived in New York City. Three lines, one of them crossed out, on the ship manifest marked their entry. Giuseppe admitted to carrying $25 and told the agent they were bound for one Rocco Calandriello Jr. at 50 Blue Island Ave., Chicago.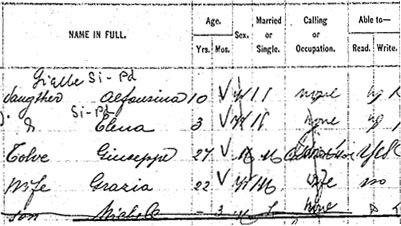 ---
Arrival
That name and that address have perplexed me for years. None of my living relatives had heard of Rocco Calandriello, Ancestry.com had too many records to be useful, and 50 Blue Island Ave wasn't an address that existed anymore. I considered it a dead end.
A few weeks ago at a conference I met Dennis McClendon, a professional mapmaker from Chicago. I casually mentioned that I knew that streets had been renumbered earlier last century but that I had gotten no further. Dennis cleared up my confusion in the span of about 15 minutes. On his laptop he brought up a scan of the 1909 document detailing all the renumbered buildings. Six years after Giuseppe and Grazia arrived 50 became 707 Blue Island Ave.
Of course, the building could have been something vastly different in 1903, though it is marked as a business rather than a residence from as early as 1886. My guess is that Rocco Calandriello really was Giuseppe's uncle, though an uncle through marriage, but what he did and why he did it at 50 Blue Island Ave. is not something the documents tell us.
Before I could inform Dennis that Google Maps still couldn't locate 707 Blue Island Ave. he noted that part of that street had been demolished in the 60's to make space for the University of Illinois at Chicago campus — the very campus the conference we were attending was being held on!
We overlaid the pre-destruction map on current satellite photography of the area and had a lock. I was out the door with my camera before I could even say thanks.
Blue Island Avenue is one of a handful of diagonal streets in Chicago, cutting southwest to northeast into the city center. Before the university was built it ended at Harrison Street; now it stops at Roosevelt Rd. Interestingly — and helpfully — the campus layout largely preserves the outline of the original thoroughfare. The gum you notice on the sidewalk only when you step in it.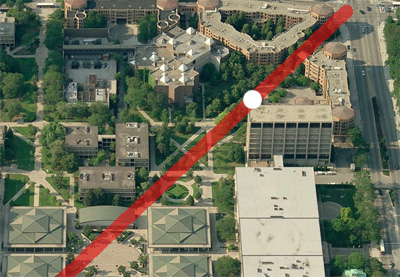 I'm pretty sure this is where 50 Blue Island Avenue once stood. Coincidentally, this spot is a few hundred feet from where Jane Addams' Hull House now resides, having been moved from its original location during the UIC construction. Given that recently-arrived Italians constituted a major slice of the neighborhood that Hull House served it is almost impossible to think that Giuseppe and Grazia did not receive assistance from Addams.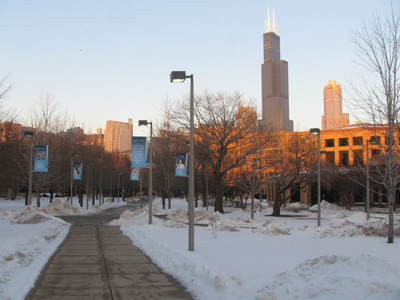 I didn't find Rocco and of course the building is gone, but I tramped around the Near West Side on a few Saturdays and came to know the area of town my great-grandparents called home. It grounded something for me, fleshed out another dimension of my personal relationship to the urban space. And set the stage for 1909.