SXSW panel preview: The City Is A Platform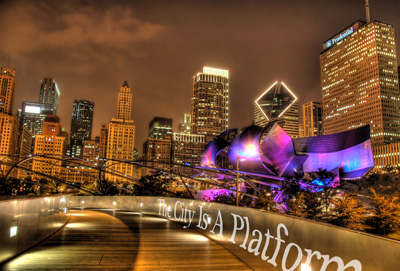 Time for the annual pilgrimage to Austin for South By Southwest. I've been on panels before but, with zero disrespect to previous co-panelists, the one I have currently lined up is going to be really freaking good, maybe the best ever. Here's detail.
Tuesday, March 16
11:00 AM
Room 9ABC
Austin Convention Center
[Add to my.sxsw.com or sitby.us.]
The panel is a great cross-section of perspective on networked urbanism. We got non-profit, academia, start-up, city government, and faceless mega-corporation (me).
Ben Berkowitz runs SeeClickFix.com, a tool that allows communities to report non-emergency issues to those responsible for the public space. This app has changed the conversation around civic engagement and prompted a number of municipalities to rethink their 311 strategy. Also, NPR likes it.
Assaf Biderman is the Assistant Director of the SENSEable City Lab at MIT. The work from the lab itself is amazing (flying LED robots, trash-tracking, city bikes that are also environmental sensors!), but it also approaches art, having been featured at the Venice Bienalle, Centre Pompidou, and Ars Electronica. Also, he's the suavest panel member.
Dustin Haisler is the CIO and Administrative Judge for the City of Manor, Texas. Words can't do justice to the amazingness that is Dustin. But a link might. He's just completely rewritten the rules of city governance and engagement. Also, he's younger than you.
Jen Masengarb is an Education Specialist at the Chicago Architecture Foundation where she educates the public about cities and the built environment. Jen gets what it takes to translate the urban world for its citizens and is a template for how we might do so in our second cities of data. Also, she's the femalest member of the panel.
And then, me, of course. I'm just stewarding the awesome above.
We're going to tackle three question areas, broadly.
What is the physically-built urban environment's relationship to the digital environment that is being built atop it? Put another way, is there a mandate for information architects to be thinking as critically about cities as they do about websites?
What is the design imperative: how do we train the makers of today to think about the city as a platform?
What is the role of citizens in this design? This is different than focus groups and user studies. Citizens shape the machine that is the city in completely indirect and informal ways.
If you'll be in Austin for South by Southwest — and you're hanging around until the last day of Interactive — I'll bet you a taco and a beer you'll learn something from this panel.
Recap post and podcast to follow.