Day Seven – Riding-To-The-Sun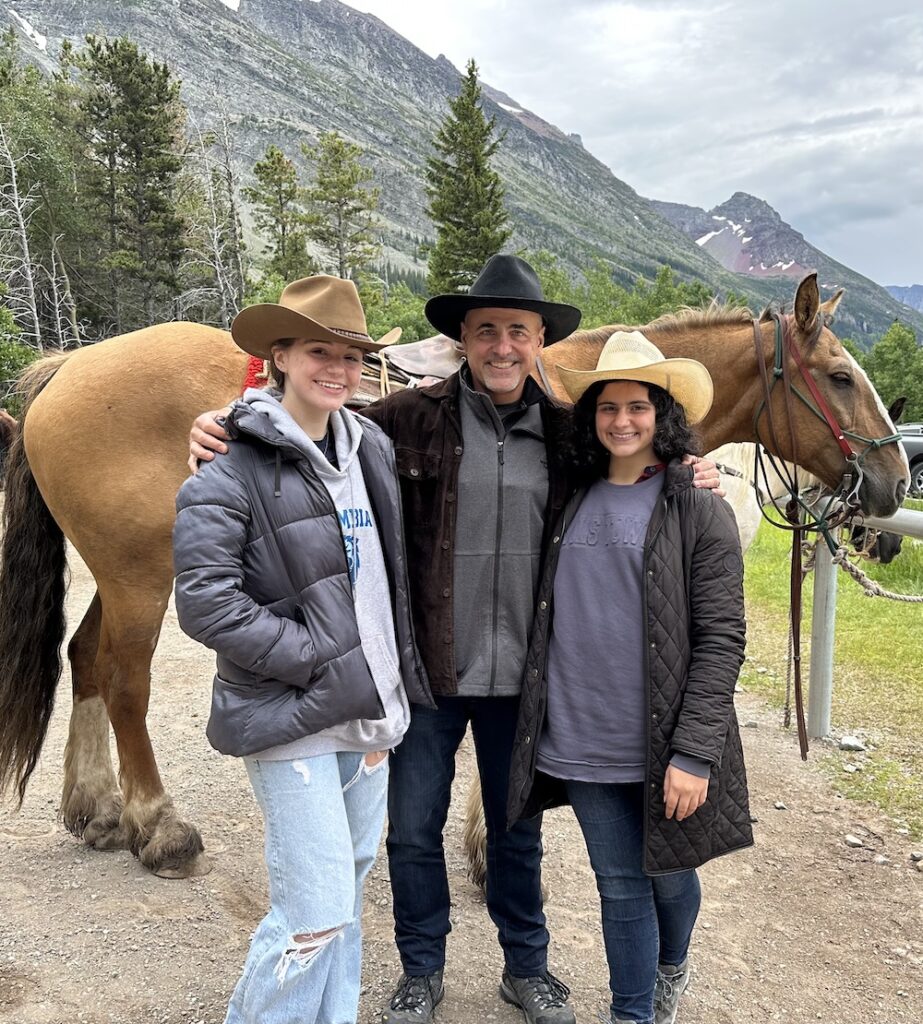 More photos here.
Arrived on the outskirts of Glacier National Park through a most bizarre thunderstorm as the sun set. The horizon is so broad here that one half of the sky was a crazy-slow setting sun backlighting the mountains of the park while the other half of the sky was a sparking supercell strobe light. As we weaved north we'd alternate between sheeting rain and total dryness. I appreciate this drama seemingly each time we arrive at a national park. The dissonance of the orchestra before the show begins.
My father was a lifelong owner and competitive rider of horses. He just loved everything about the beasts. (I vaguely recall a family vacation to a dude ranch.) When he passed each of us took some of his riding gear, though none of us kids are horse people per se. But today we were! Each of us wearing one of my dad's hats, the girls and I took a two-hour walk/trot through the Many Glaciers section of the park. It was a perfect first activity, ambling easily through a less-visited area of lakes and wildlife — including a baby moose. (Watch out for mama.)
From there, the centerpiece: Going-To-The-Sun Road, the 50 mile east-west scenic drive that goes up and over the continental divide. As a long time Kubrick devotee and lover of The Shining I had to make this drive. You'll instantly recognize the opening scene flying low over the lake as Jack heads up to the Overlook for his job interview. This marks my last visit to non-soundstage shooting locations/inspirations for this film: Stanley, Ahwahnee, Timberline, now Going-To-The-Sun. (Oh and for the none of you interested in RV-based horror, I got you covered.)
Movie nerding aside, the views from this road were some of the most stunning I've ever driven (for the day unhitched, which brings its own sense of wild freedom). The only comparison I can make is Trail Ridge Road in Rocky Mountain National Park, though even that falls short of this experience. I've been to quite a few national parks and I'd easily put this ride and its turnouts in the top five things to do.
Staying multiple nights here provided us the crazy luxury of not hastily packing up and rolling out, so we had a great late lunch at a local diner/pie parlor, did the trip's first loads of laundry, and generally tidied our rolling home. It was delightfully off-itinerary. We ended the day with some campfire pizza, a visit to the only national park astronomy observatory solely for visitor education (the park and its Canadian sister comprise one of a handful of International Dark Sky sites), and, naturally, a viewing of The Shining.
I wish we could stay here forever … and ever …