"Of course we had to turn it down."
Not going to win any parenting awards here, but I think I know who will be carrying on the tradition in my twilight years. (Clip art brilliance, I say!)
Views From The Tank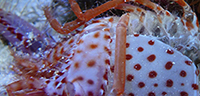 Molted carapace, Debelius reef lobster
Appearances
A Lot You Got to Holler
Chicago, IL
June 29, 2016
Details ...
Marginalia
I have loved Ramelli's wheel since grad school.

Crazy attention to detail on typography, chess, and lots of other things in Blade Runner.

Action is more important.

One of the many reasons I love the show.

First pitch at a Japanese baseball game is a face-off between The Ring and The Grudge. So uniquely, wonderfully Japan.

Modularity as dismemberment.

Ancient Egypt and outer space. You have my attention.

Still relevant: "If there is a map, if there is a model, we increasingly experience it from within."

"The 21st century will not be a competition over territory, but over connectivity — and only connecting American cities will enable the United States to win the tug of war over global trade volumes, investment flows and supply chains."

"Before SimCity, few outside the realm of urban planning and civil engineering had a clear mental model of how cities worked, and none were able to twiddle the knobs of urban life to produce counterfactual outcomes. We probably still can't do that at the level of complexity of an actual city, but those who play these types of games do have a better understanding of the general effects of their actions. We need to get better at 'playing' simulations of the technological world more generally."
Recent Photos
Places Visited Recently
Recently Read
Categories
Archives