"Of course we had to turn it down."
Not going to win any parenting awards here, but I think I know who will be carrying on the tradition in my twilight years. (Clip art brilliance, I say!)
Hi, I'm John Tolva!

I'm co-founder of
CityFi
, a strategic urban consultancy.
This is all my other stuff.
Here's
a little bit about me
and how to get in touch.
Views From The Tank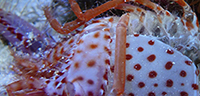 Molted carapace, Debelius reef lobster
Marginalia
1) Stop sending sales people.

... is the easiest way to experience online media together, in sync.

DIY Stranger Things "alphabet" for communicating with the Upside Down.

The equation is fairly simple: skyways kill retail and the vitality of the city center.

What a beautiful, insightful essay.

The Internet of 💩.

"The MCs served as a voice for disenfranchised communities and often un-consulted end users of public housing."

"A suburban Tesla is an improved means to an unimproved (and unsustainble) end."

"By far the most important thing blue-state cities can do is the one that for the last 25 years has proven the hardest: build much, much more housing."

I had no idea Dan had updated this seminal essay. Wonderful.
Recent Photos
Recently Read
Categories
Archives