"Of course we had to turn it down."
Not going to win any parenting awards here, but I think I know who will be carrying on the tradition in my twilight years. (Clip art brilliance, I say!)
Hi, I'm John Tolva!

I'm co-founder of
CityFi
, a strategic urban consultancy.
This is all my other stuff.
Here's
a little bit about me
and how to get in touch.
Views From The Tank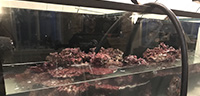 Reef Tank 2.0, under construction!
Marginalia
Amazing guy, friend of mine from the City of Chicago

Blame it on The Stepford Wives.

This is most beautiful, borderline creepy thing I have listened to in forever.

Nighttime dance parade!

Surprisingly effective low-budget conspiracy flick. NASA + CIA + AV nerds.

Well, it was a long time ago ...

Browse a map of the world for radio stations. This is what it must have felt like to be a HAM radio operator 50 years ago.

Like a numismatics gallery.

Pattern Write / Pattern Clear.

1) Stop sending sales people.
Recent Photos
Recently Read
Categories
Archives