"Of course we had to turn it down."
Not going to win any parenting awards here, but I think I know who will be carrying on the tradition in my twilight years. (Clip art brilliance, I say!)
About
I'm John Tolva.

I lead the PositivEnergy Practice.
Here's a little bit about me and how to get in touch.
Views From The Tank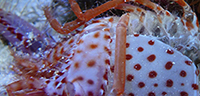 Molted carapace, Debelius reef lobster
Appearances
Lambda Alpha Land Economics Society: Data Driving Change
Chicago, IL
March 16, 2015
Details ...
1871 Economy of Now Forum
Chicago, IL
March 17, 2015
Details ...
Marginalia
Audiobot vs. telemarketers. All the LOLs.

No tilt-shift effect needed.

First project I know of attempting to quantify the productivity and economic hit a region takes from being racially segregated. So vital.

This would have maybe the head of 1996 me asplode.

First one to spot a Blue Heron and a Divvy bike in the drink wins.

"Many New Yorkers lose their Cartesian sensibility, their precision about location, in places where the foliage is thick or a path arcs downhill, in places where it is hard to see the buildings for the trees."

Want.

"The circles take shape when the wind causes a bent stalk of grass to pivot around on its axis, scratching out an arc or full circle in the sand."

"There are many excellent reasons to go to Mars, but for anyone to tell you that Mars will be there to back up humanity is like the captain of the Titanic telling you that the real party is happening later on the lifeboats."

"The public art piece for kids turns this flow of ocean motion 'into a city scene.'"
Recent Photos
Places Visited Recently
Recently Read
Categories
Archives