"Of course we had to turn it down."
Not going to win any parenting awards here, but I think I know who will be carrying on the tradition in my twilight years. (Clip art brilliance, I say!)
Views From The Tank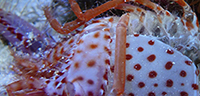 Molted carapace, Debelius reef lobster
Appearances
TTI/Vanguard: Networks, Sensors, and Mobility
San Francisco, CA
May 3-4, 2016
Details ...
1871: A Conversation with John Tolva
Chicago, IL
May 19, 2016
Details ...
New Cities Summit: The Age of Urban Tech
Montreal, Quebec
June 21-22, 2016
Details ...
Marginalia
"New York in the Age of Informatics"

"Ultimately, however, it is the image of the artist, alone at night in his own studio, with the machines warmly glowing, the record button permanently on with nothing but themselves and their imagination, having the freedom and technology to be creative, that the Detroit techno ethos takes musically from Prince."

We are doomed.

"There's a below-ground community of mycorrhizal fungi invisibly interconnecting an above-ground plant community."

Bizarre, but maybe this is a backup plan for reefs as they die in tropical zones.

"You find an Intense Necklace. Oh wait, that's just an Intestine Necklace."

"Only 16% of women would describe their morning with the hastag #blessed. And that seems kinda high."

These are the older brothers I aspire to be.

"We're moving to slow down time."

The "quiet catastrophe" of America's car fetish.
Recent Photos
Places Visited Recently
Recently Read
Categories
Archives