My earliest memory of television is also my scariest. I was born in 1972. Land of the Lost aired on Saturday mornings from 1974 to 1976. It was a remarkable program for the time — dark for its time slot, ambitious effects, multi-episode story arcs — I've later learned. But back then I knew only this: the Sleestak scared me to death.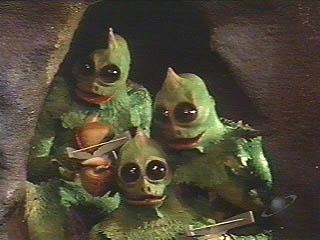 A Sleestak is a cave-dwelling humanoid lizardish creature forever threatening the three hapless humans on the show. Peeling back a few layers of psychological scar tissue I seem to recall that they only ever hissed, though I may simply be unable to remember anything else. (Tell me you wouldn't crap yourself as a four-year-old hearing that. What were my parents thinking letting me watch this show?)
It's funny how deeply fear etches. Thinking back on this traumatic formative period of my life I also recall a restaurant my parents used to take us to. I remember two things. First it was like 100 miles away (Oak Brook to Naperville for you Chicago area folks) and second that a Sleestak lived there.
It was a dark restaurant, themed like a old west mining operation. Lots of antique excavation and railway equipment decorating the walls. On a shelf in the corner was an old railroad signal lantern. It looked something like this.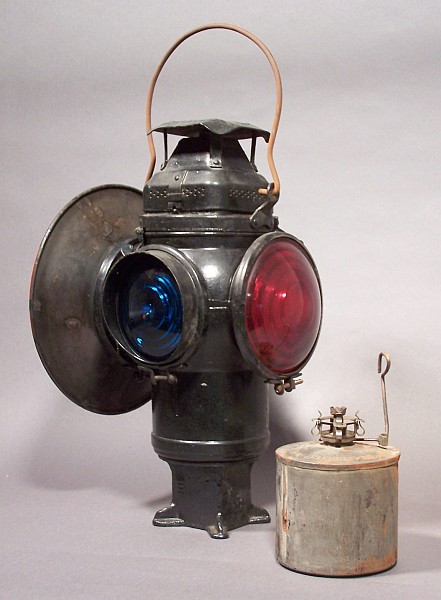 Obviously, obviously, I could look at nothing else. In the cave-like dark this thing looked exactly like the bulbous eyes of a Sleestak peering down on me and my roast beef au jus. In fact I can't eat a beef dip to this day without hearing a creepy hissing in my head.
Apparently there is a movie adaptation in the works. Have to take my kids to that. Nothing says family bonding like shared childhood terror.