Moleskine mod
Moleskine notebooks are somewhat faddish right now, but damn they are useful. And there are plenty of sites out there that detail ways to make them more so. Moleskine hacks, so to speak. Here's my own: a holding mechanism for the Fisher Space Pen.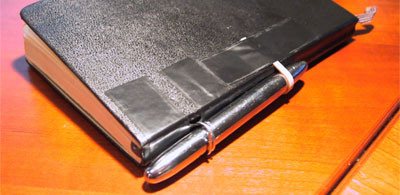 I wanted a way to join the notebook and the pen so I would not have to dig for either when I need them in a pinch. The problem was that the Fisher has no clip and is very slick. So I bent a paperclip to snugly grab the pen where it's sheath ends and affixed a rubber band to hold the other end. It ain't pretty, but it works.
UPDATE: My little MacGyverism hacked me back. Turns out the paperclip snip created a flesh-digging edge. Must work on 2.0.