The mechanized ant hill outside my window
As if I didn't have enough to distract me at work, the Sun-Times deconstruction has moved into high gear. It is impossible not to watch as the crews scurry around pummelling concrete to bits, blow-torching in half the very girders they're standing on, and driving those cute miniature bulldozers to the very precipice of certain doom. These guys have now officially suffered through every element: wind (the bend in the river is one of the windiest points in the city), snow, rain, sneet, frizzle, and, yes, fire. I passed part of the hard-hatted crew at street level the other day and I felt like I was walking by celebrity. Reckless men of destruction, I salute you!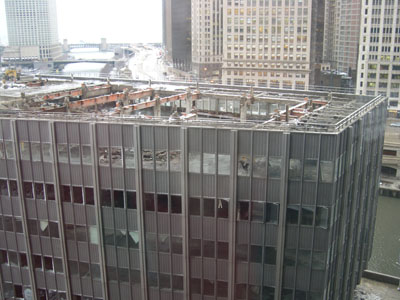 We've been taking snapshots of the work at 10-minute intervals since it started. Here's a timelapse video of the work so far. (Thanks to Jack and Jeff for putting this together.)
More photos here.