Digital Guide at MoMA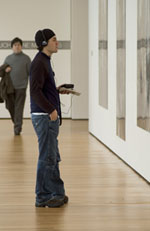 The Museum of Modern Art in New York has just launched a new visitor service. The MoMA Digital Guide, a story-based multimedia tour guide developed in collaboration with IBM, is the next generation of the service originally developed for the Egyptian Museum in Cairo. I'm part of the team who developed the app, so I'm naturally biased, but I think it is a very fine complement to the very fine new MoMA space. For now, renting the guide is free. Go on Friday evening between 4 and 8PM and admission's free too.
Business Week recently ran a short piece on the Digital Guide. If you're interested in the technical details, feel free to e-mail me.