Is there anything cover art can't do?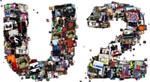 Continuing the recent themes of cover art and interesting uses of web services and open API's (in the marginalia sidebar), here's AmazType, a creative little app that creates a word-mosaic of your search term from the covers of books and music at Amazon that are related to the term. So, "Shakespeare" would return that word created from the covers of all the books containing his works.
I consider this a perfect use of technology.