The final timelapse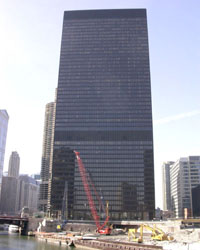 Video stitcher extraordinaire Jack Blanchard delivers this last timelapse (WMV, 10MB) of our officecam Sun-Times deathwatch. Now with music!
Meanwhile, A Daily Dose of Architecture presents a photographic homage to my building, newly — and temporarily — presenting a stunning view from the Michigan Ave. bridge thanks to the demolition.
Is that straight out of 2001: A Space Odyssey or what?