Word problem, the riveting conclusion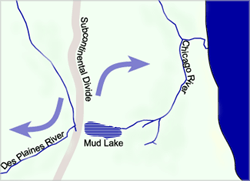 A follow-up to my previous post about water drainage on Harlem Ave. It was, of course, a trick question. At least one of you suggested as much, though no one actually got the answer right. You see, Harlem Ave. is the rough location of a miniature continental divide. Water to the west of Harlem flows west; drainage east goes east. What took me a while to realize is that there still is only one Continental Divide. Drainage west of Harlem doesn't keep flowing west. Eventually it dumps into the Mississippi and thence to the Gulf. Going the other way ends up in the Lake or the Atlantic. So the answer, assuming no sewer craziness, is that the hydrant run-off will end up in the Gulf.
The Chicago Public Library explains this a bit better. Among other things, this divide is what made the area so attractive to early explorers. A short portage and you could be headed to the Mississippi or the Great Lakes. (Before the Chicago River was reversed, that is.)
Oh, by the way, that little traffic incident didn't really happen. Just a story in the service of the contest. But thanks for the concern!