Crayon box morning
Last night I was thinking how much the front page needed some color. I had to look no further than a few spring gardens on the walk to the L this morning.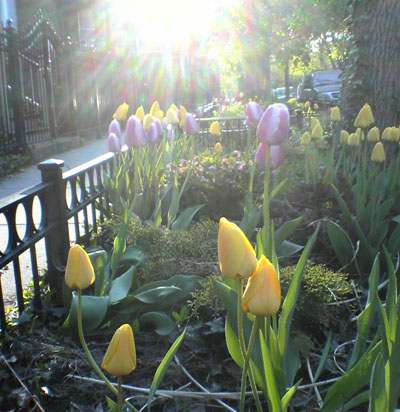 Hi, I'm John Tolva!

I'm a co-founder of
Cityfi
, a strategic urban consultancy.
This is all my other stuff.
Here's
a little bit about me
and how to get in touch.
Marginalia
I can validate this science.

"From these experiments, we can take typeface as an important aesthetic element to understand cities. Apart from its artistic influence on our urban city, it also correlates significantly with amenity types, household incomes and other socio-economic characteristics."

"Each of these grids scales information, whether domestic, geographic, musical, or textual, and on behalf of its user, by turns a bureaucracy, an empire, a church, and the emerging merchant class."

In her comparative study of fallen empires, Jacobs identifies common early indicators of decline: "cultural xenophobia," "self-imposed isolation," and "a shift from faith in logos, reason, with its future-oriented spirit … to mythos, meaning conservatism that looks backwards to fundamentalist beliefs for guidance and a worldview."

"We're all just going forward, backward, on and off."

A font made from gerrymandered congressional districts.

Whoa.

Audio engineer on a coral reef = my dream job.

You Had One Job → "Best Christmas tree ornament ever."

Need a —? Here you go.
Recent Photos
Recently Read
Categories
Archives