International Freedom Center building design announced
The design for the International Freedom Center — the only above-ground building on the original parcel of land from the World Trade Center — was released to the public today. Given the flashy, contentious architecture of the Freedom Tower and a desire not to loom too prominently over the memorial pools, the IFC designs are fairly understated. The building is raised off the ground to permit lots of ground-level interacion and wandering. But what I love most is that the raised structure is the opposite of a building that falls down. It levitates, is ascending — an implicit counterpoint to the collapse of the towers.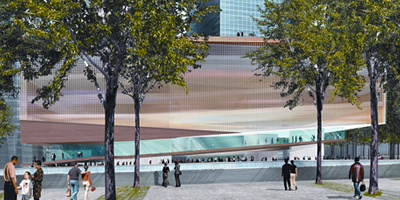 Snøheta, the Norwegian design firm responsible for the Biblioteca Alexandrina (a true masterpiece), created the plans.
Full press release here.