Jumper at Trump site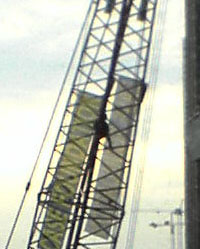 Some yahoo climbed up the tallest crane at the Trump Tower construction site (no ladder, mind you) and is threatening to splat himself. Some intellectual property gripe, perhaps involving Oprah — or so the buzz at ground level says. The construction crew couldn't be happier at this forced break and of course most of the pedestrian traffic is playing armchair negotiator or calculating his survival chances if he dives into the drink. (Um, that'd be zero.) I just want to know what the CPD Underwater Search and Rescue Unit can do.
UPDATE: After a slow descent the jumper decided he didn't want to face the cops and he stalled. At this point I am guessing the subtle negotiation techniques used by the CPD turned to profanity-strewn yelling. Someone told the crane operator to lower the whole thing and the almost-suicide was apprehended. He sure didn't like the structure going horizontal though. Probably scared him more than being 100 feet up. No lives lost, but oh the billable hours wasted!