Shang High
Well this is certainly an amazing city. I figured it would be difficult for Shanghai to live up to the hype it has received of late, but I'm unable to really refute things after having spent the better part of the day wandering around the city. Shanghai is comprised of three fairly distinct urban experiences. The newest area, Pudong, is straight out of Blade Runner, all dizzyingly vertical, clad in neon and LCD. The Oriental Pearl TV Tower looks ready for its encounter with the monolith from 2001 while the Jin Mao Tower sports the highest hotel (which I am in) in the world. Looking out my window I stare at three or four skyscraper-topping helipads and half-expect to see early-morning Tai Chi exercises atop them.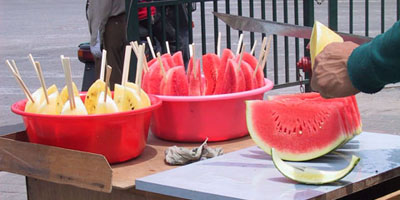 The Huangpu river divides Pudong from the main areas of Shanghai. A constant armada of barges and support craft ply the wide river making obvious that commerce is the lifeblood of this city. On foot you cross the river via a futuristic subterranean tunnel that uses four-man pods on electric rails to whisk you through what can only be described as the bastard child of the United Airlines terminal pedway at O'Hare and EPCOT Center. Cheesy, but fun to look at — once.
The Bund, as Europeans called the corniche promenade in the early part of last century, is a striking colonial contrast to the pomo Pudong. You'd almost think you were in pre-war Europe. Actually the opening scene from Indiana Jones and the Temple of Doom comes to mind. Beautiful, yes, but it stares across the river at the gleaming otherworldiness of Pudong and seems anachronistic and mildly pathetic. Architectural evidence of the years between colonialism and China's recent resurgence is, thankfully, missing — at least here.
Proceeding south into Old Shanghai, you quickly find yourself in a tangled knot of vendor-strewn alleys, meaty odors, and hidden gardens. It is enchanting, actually. A tea house built atop stilts in the middle of a small lake. Rock grottos perfect for forgetting you are in a city of 16 million people. Ponds dense with koi and tourists staring back at them.
First impressions. But clearly the intersection of these diverse urban experiences is the engine (or at least one of the cylinders) powering Shanghai's stunning vitality.
All Flickrlicious photos here.
See also Dan Washburn's Shanghai Diaries. Excellent blog.