Nation's tallest building proposed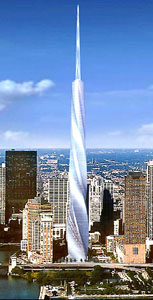 550
feet
taller
than
the
Sears
Tower.
Wow.
I like this design for three reasons.
(1) Trump hates that it would overshadow his latest homage to himself.
(2) The City of Big (Square) Shoulders needs more curve, less quadrilateral in its skyline.
(3) It shares elements of what the the now-fortified Freedom Tower once was (and still could be).
Maybe this will knock some sense back into that design.