Turkish delight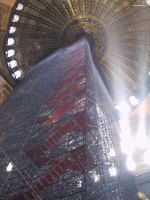 I had a free day today in Istanbul and made much of it. First to the Haghia Sophia, main church of the Roman (eastern) Empire under Theodosius. From a distance one is struck by the bulbous rooftop, domes and half-domes crowding inwards like a complex multi-chambered soap bubble. Converted to a mosque after the Arab conquest it has since been converted to a museum after the Tourist conquest. That is, it is no longer a sacred place. Just a husk of former greatness and object of rivalry for iconic supremacy. It was actually a bit depressing. The synthesis of Christianity and Islam — which could actually be stunning if you think about it — stirs no soul. The whole place seems barren and dilapidated. I suppose this is what happens when you take a holy space away from a religious organization who cares about it and give it over to a ministry of tourism. The Byzantine mosaics were stunning, though. My appreciation for the style has grown faster and more complete than any once-dismissed art I ever studied in college, I can say that. Full picture set here.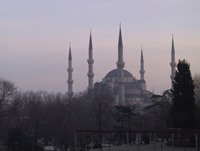 The Blue Mosque nearby the Haghia Sophia was actually more spectacular. The only mosque in Istanbul with six minarets it looks from a distance like an enchanted Alpine castle. It is a functional mosque too, so the interior is as striking as the outside — a real contrast to the decaying taxidermy feel of the Haghia Sophia interior. Nearby the Blue Mosque is a oval roadway that follows the course of a Roman hippodrome course. The interior is now a lovely park skirted not with charioteers but cafes. Which brings me to nargile — the Turkish shisha pipe, hookah, water-pipe, hubbly-bubbly, call it what you will. I've been to a few nargile cafes now and I can compare them to their Egyptian counterparts. In Turkey it seems you smoke the nargile as a pastime while playing backgammon or checkers whereas in Egypt you smoke it, um, just to smoke it. Nargile cafes are amazingly social places. Tables are arranged for interaction. Egyptian shisha cafes have their own charms, but they are mostly for smoking and watching a television turned up way too loud to a music channel. I'd say Egyptian shisha is finer and more varied, but I prefer the culture of the nargile cafe.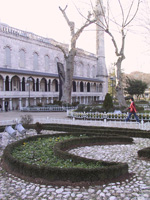 I made it to a Turkish bath house today. It was old (commissioned in 1584) and traditional but, alas, in a bit of a touristed area, though I was definitely the only American and probably the only Westerner in the place. My beloved baths in Chicago bill themselves officially as the Division Street Russian and Turkish Baths, but I'm struggling to find commonality between the experience in the bathhouse today and the one back home. There were no obese men, no oak switches, no freezing pools, no eucalyptus steamrooms. The Turkish bath today felt more like a Roman basilica. A central, domed room houses most of the action. It is warm but not sauna-like. The all-marble room features a central raised octagonal slab on which men lounge and are scrubbed by other men. There are domed niches with running water — bearing a real resemblance to side chapels in medieval churches — where you can hang out as well. The experience centers on a kind of vigorous scrubdown, though. This is no massage. For one, you're on hard marble. For another, these gentlemen are probably former interrogators from the Turkish military. Despite the presence of soap and a loofah glove the whole thing is like a wrestling match where you're not allowed to fight back. I was certain I'd be left paralyzed on the slab as my scrubber treated my spine like a flexi-straw. I yelped in pain more than once which elicited the only English word my friend apparently knew, a hearty "YES!" It was invigorating to be sure, but not really a bath in the sense of a place where one bathes. 'Course you can't beat the nargile-bathhouse one-two punch, so I'm not complaining.