For a good time, call 877-454-0795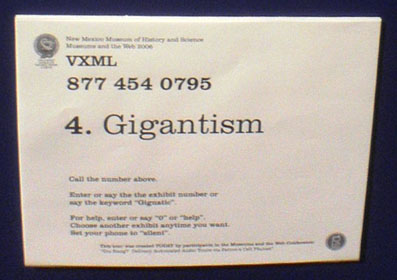 The annual Museums and the Web conference held its opening reception at the New Mexico Museum of Natural History in Albuquerque two nights ago. The dinosaur exhibit — which is to say, most of the museum — featured a cellphone-based tour in two flavors, keypad-activated and voice-response. All you had to do was say the number or name of the exhibit and voila! But here's the key point: the tour itself was put together only hours earlier in a conference workshop by museum professionals, podcast-style. This is really quite revolutionary since it shows a real speed-to-market (so to speak) and flexibility of audio tours that previously had not existed. Guerrilla museum tour creation. Yet another example of the web experience for content creators and visitors infiltrating the physical museum space. Wonderful!
And don't forget to say "Gigantism." Not only because it triggers the audio, but because it is a lovely word.