How to create a LEGO mosaic
UPDATE: the kids have created a business based on this idea. If you're interested in having a mosaic made from your photo, please visit www.thebrickbrothers.com.
When my oldest son was born in 2001 LEGO offered a cool online "Brick-o-lizer" that would take an uploaded photo and turn it into a five-tone grayscale grid of 1×1 bricks from which you could create a wall-hanging mosaic. LEGO would send you the exact right amount of bricks in bulk. Putting it together was as easy as paint-by-numbers. I did this for him and for his little brother in 2003.
My daughter was born a few weeks ago and so naturally I went back to the Brick-o-lizer to create her mosaic. Imagine my horror to find out that it isn't available anymore. How could I deprive my baby girl of her LEGO mosaic? Well. Obviously. I couldn't.
So, here follows instructions for doing it manually in Photoshop. (But before we begin, let's be sure to acknowledge the unbelievably talented people who create LEGO mosaics in full color without a grid at all. I bow to your supremacy.)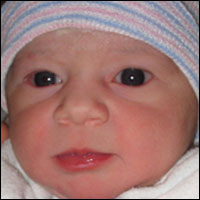 First, prep your shot as a square. For portraits, tight in is best. People will naturally view your mosaic from a distance or squinting to maximize contrast so details external to the person in the portrait will be lost (and a benefit-free pain in the ass to snap into the LEGO grid for you).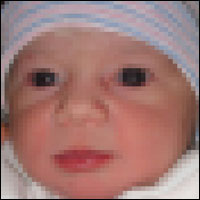 In Photoshop, resize the image to 440 x 440 pixels and apply the Mosaic filter in Filter > Pixelate > Mosaic. Choose a cell size of 10. Then play with the brightness and contrast with an eye towards highlighting the most important details of the portrait.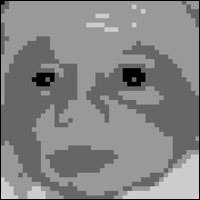 Change the photo to Indexed Color, select a Custom palette, and choose six shades of gray. The easiest way is to click on the grid and then when the color palette comes up choose Web colors only. Select white, black, and then a light, medium, and dark gray.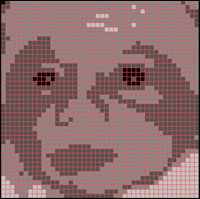 In Preferences > Guides, Grids, & Slices set the Grid to a prominent color, gridline every 10 pixels, and subdivisions 1. Turn on a grid with View > Show > Grid.
You'll need to do some manual computation. The grid is 44 x 44 which is 1,936 bricks. Eyeball or, if you prefer, count as many of each of the five colors you will need.
You'll then need to go to the LEGO shop and order the bricks.
You'll need one X-Large Gray Baseplate , one set of 2×4 Roof Tiles Steep Sloped Black, one set of Black Roof Tiles 25° (2×2, 2×4, Corner), and then as many 1×1 Studs in White, Light Grey, Medium Grey, Dark Grey, and Black as you need.
Once it all arrives, use your gridded Photoshop image or print it out and enjoy a few hours of mind-numbing bricklaying.