Almost exactly a year ago my sons asked me what "investing" was. A strange question from a 9- and 7-year-old, but I was impressed by the curiosity and it seemed timely given the banking implosion.
I lost the boys midway between arcane regulation and exotic financial instruments, but they were intrigued with the idea of a business more complex than a lemonade stand. And then they wouldn't shut up about starting one, embarking on an entrepreneurial brainstorming session whose intensity would have made a venture capitalist smile. (Or back away slowly.)
The idea, fairly speedily arrived at, was to build on something the kids had been staring at all their lives. In the days following the birth of each of the three kids I built grayscale mosaics of their birth photos out of 1×1 LEGO bricks. They've hung on the wall ever since. The business idea, quite simply, was to build these mosaics for others.
And so was born The Brick Brothers.
Listen up, folks. Here's where I divulge trade secrets.
We built the site on the superb Shopify platform. It accepts photos uploaded from customers who purchase a completed mosaic or just the raw materials.
We then use an open source application call PicToBrick to generate a number of gridded (48×48), reduced-color images. The image that comes closest to capturing the essence of the original photo is chosen and printed out as a guide for the assembly.
Then the boys snap the pieces onto the baseplate, following what is essentially a color-by-numbers schematic. Dangerously, this is mind-numbing (and finger-numbing) but also requires attention to detail: if you pop the wrong brick in place and only notice it several rows later it's a huge effort to remove the studs. What makes this a less-than-rare occurrence is that you really only get a sense of the overall image by moving away from it. When you're up close snapping away it is often impossible to notice an error.
The whole effort takes about 4-6 hours depending on distraction. Then we package up and ship out.
One hurdle — aside from child labor laws — has been finding the 1×1 bricks in bulk cheaply enough. LEGO doesn't sell in bulk to mere mortals and those bins at their stores contain very specialized bricks. Luckily there's a massive ecosystem of LEGO re-sellers online, centered on a marketplace called BrickLink. But there's no single supplier. It's a scramble to stay well-inventoried and not break the bank.
It should be obvious we're not in this little enterprise for profit, but I'd continue the business with the boys even at a financial loss given its many lessons: time-management, expenses vs. revenue, the importance of marketing, the concept of chiaroscuro, how easy it is to be driven insane by tiny LEGO blocks, etc. We're having fun and not losing money. Can't ask for much more than that.
Follow along via Twitter here.
Yesterday Parent Hacks featured my post on how to create a LEGO mosaic manually (or mostly manually). Asha Dornfest has created a really wondeful site applying the hacker mentality to parenting. The site has exploded in popularity, presumably because geeks can reproduce and even take an interest in what they spawn.
Parenting as a community of interest on the Internet has grown immensely in recent years (or maybe I am just paying better attention). Federated Media just created a metablog that combines parenting-related posts from many of their major properties.
In addition to straight tips and tricks, Baby Roadies and The Sneeze provide some hilarious dad perspectives on the parenting arts.
Birthin', surfin' … a perfect match. I mean, they're both just a series of tubes.
UPDATE: the kids have created a business based on this idea. If you're interested in having a mosaic made from your photo, please visit www.thebrickbrothers.com.
When my oldest son was born in 2001 LEGO offered a cool online "Brick-o-lizer" that would take an uploaded photo and turn it into a five-tone grayscale grid of 1×1 bricks from which you could create a wall-hanging mosaic. LEGO would send you the exact right amount of bricks in bulk. Putting it together was as easy as paint-by-numbers. I did this for him and for his little brother in 2003.
My daughter was born a few weeks ago and so naturally I went back to the Brick-o-lizer to create her mosaic. Imagine my horror to find out that it isn't available anymore. How could I deprive my baby girl of her LEGO mosaic? Well. Obviously. I couldn't.
So, here follows instructions for doing it manually in Photoshop. (But before we begin, let's be sure to acknowledge the unbelievably talented people who create LEGO mosaics in full color without a grid at all. I bow to your supremacy.)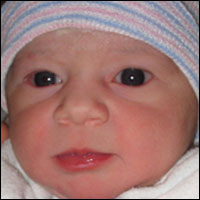 First, prep your shot as a square. For portraits, tight in is best. People will naturally view your mosaic from a distance or squinting to maximize contrast so details external to the person in the portrait will be lost (and a benefit-free pain in the ass to snap into the LEGO grid for you).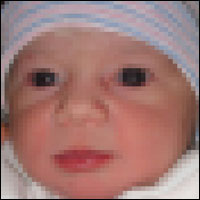 In Photoshop, resize the image to 440 x 440 pixels and apply the Mosaic filter in Filter > Pixelate > Mosaic. Choose a cell size of 10. Then play with the brightness and contrast with an eye towards highlighting the most important details of the portrait.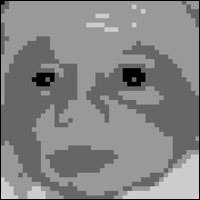 Change the photo to Indexed Color, select a Custom palette, and choose six shades of gray. The easiest way is to click on the grid and then when the color palette comes up choose Web colors only. Select white, black, and then a light, medium, and dark gray.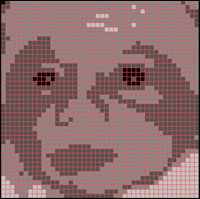 In Preferences > Guides, Grids, & Slices set the Grid to a prominent color, gridline every 10 pixels, and subdivisions 1. Turn on a grid with View > Show > Grid.
You'll need to do some manual computation. The grid is 44 x 44 which is 1,936 bricks. Eyeball or, if you prefer, count as many of each of the five colors you will need.
You'll then need to go to the LEGO shop and order the bricks.
You'll need one X-Large Gray Baseplate , one set of 2×4 Roof Tiles Steep Sloped Black, one set of Black Roof Tiles 25° (2×2, 2×4, Corner), and then as many 1×1 Studs in White, Light Grey, Medium Grey, Dark Grey, and Black as you need.
Once it all arrives, use your gridded Photoshop image or print it out and enjoy a few hours of mind-numbing bricklaying.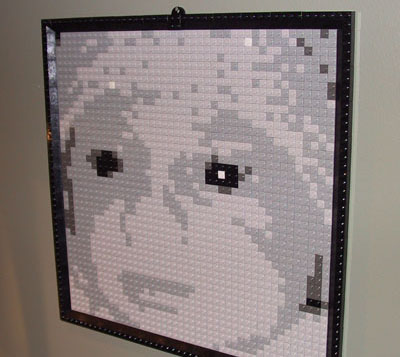 OK, so, we didn't expect that to happen.
Today Planet Earth and two flabbergasted parents welcomed Charlotte Mae Tolva, a beautiful, healthy 7lb. baby girl. Robyn and I are still in a bit of shock. We felt nearly certain that this baby was a boy and that he'd join his brothers in a lifetime of mayhem and dastardliness. But no. Baby Charlotte skipped our anniversary last week in favor of a different holiday. She arrived just in time for most retail shops to be closed for the Memorial Day observance and so prevented us (or rather our families) from buying anything remotely girl-like that we can bring the little darling home in. You see, we own only boy-gear (most of it threadbare) and didn't even bring a "safety" outfit to the hospital. But maybe closed baby shops is a good thing. I fear a crazed orgy of girl-stuff purchasing from relatives and friends.
Oh, and I suspect The Darnedest Things blog category is going to start filling up rapidly once we introduce the big bad brothers to Charlotte this evening. Check back for their trenchant insights into boy-girl relations and anatomical differences.
Welcome, sweet little baby. You're the best kind of surprise.