Return to the Hermitage
My first major project when I joined IBM in 1998 pretty much changed my life. I was asked to lead the interface design of a new website for the State Hermitage Museum in St. Petersburg, Russia. The site was to be the public face for some three thousand newly-digitized high resolution scans of artwork. By most measures the site was a resounding success. At the time, and even for a few years afterwards, the site boasted the largest number of high-quality images on any museum website.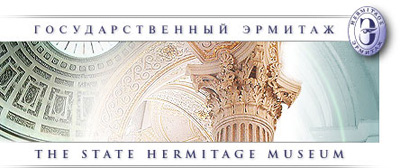 But web sites age quickly. Especially sites whose aesthetic impact is as important as its functionality. The site badly needs a facelift. So, in two weeks I'm headed back to St. Petersburg for the first time since 2000. It won't be the massive overhaul that I undertook before, but I'm certain we'll come up with something.
It's strange thinking about returning to a place or project that was so formative to one's career. You can obviously never go back. It is seven years on and I have an uneasy sense that I'll be disrupting memories that have crystallized (probably falsely) into my own version of a Golden Age or a myth about the true beginning of my career. This all sounds flighty, I know, but there's a part of me that wants to keep St. Petersburg associated with wide-eyed naivete and awe. Like not wanting to return to a special place from youth for fear of wrecking the memory of it by seeing it through adult eyes.
I dug up a long e-mail I wrote on one of my first trips to Russia. Here's a taste (so to say) of the experience.
Call it snobby Americanism if you will, but I demand a positive ID on all soupy meat by-products prior to letting them circular-saw through my digestive system. I'll drink most anything alcoholic, but, come on, don't tell me that you opened the bottle of wine before you got to the table to save me the trouble — I can taste that it has been oxidizing in a warm room for about three months now. (Hell, I've made hooch that tastes like that.) Even the attempts at more traditional American junk food, which is fairly difficult to screw up, are mostly failures. For example, a waitress asked me if I wanted french fries with a meal the other night so I said sure. I was brought a platter of fries — as an appetizer, mind you — that were so disgustingly salty that my tongue began to wince before each fry reached my tastebuds. It was like magnetic repulsion or something. The fries looked like they had been dragged behind a car across the flats of Nevada. Then, in case I had not had my fill of this delicacy, my main meal arrived with a side order of fries. Thank god I had the refreshing bottle of flaccid wine to wash it all down.
Not exactly culturally sensitive*, to be sure, but also not a memory I want at all sullied by finer dining experiences this time around. I'll gladly take the hyper-salted fries and a bottle of skunked wine.
[*] A few years after we launched the site, a paper appeared that claimed IBM's work on the Hermitage site was a form of "cybercolonialism." Say what you will about that, but the primary argument rested on IBM purportedly forcing the Hermitage to use American English rather than their standard British English. Whenever I read that I chuckle. You will too if can read and know the difference between 'color' and 'colour'.