Testing 1-2-3
Coudal Partners has released it's third edition of Field-Tested Books. It's a stunner.
FTB is a collection of short reviews that explores the connection between the subject of a book and the actual location it was read. Like Rob Gordon's autobiographical organization of his record collection in High Fidelity, the idea is that reading is not a act sliced off from the context in which it happens. The real world has a way of bleeding into the written world, and vice versa. FTB is a compendium of crossovers.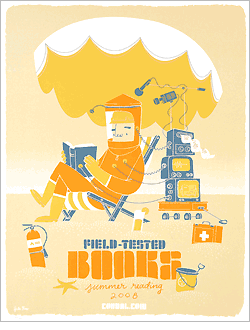 This year Coudal is releasing the reviews as a bound book. Looks gorgeous, as does the poster and the process behind it. Kudos to Steve and the entire Coudal crew for editing such a cool volume. And for inviting me to contribute.
For map-types, I've put together a quick one showing the geographical dispersal of the reader reviews. Some are guesses — for point-to-point air and road travel I used the midway as the location — and others don't exist at all. Happy trekking!