Put a fork in it
A phenomenal weekend that began with beermakin' and a crawfish boil concluded today with the merger of several of my favorite things: an outing with my wife (my birthday gift from her) on bike through the neighborhoods of Chicago in search of unique home-grown food fare.
We were part of the new Fork and the Road culinary bike tour of Unsung Chicago Classics. Our group was 13 with two knowledgeable, friendly guides and, though the weather was chafetastically hot, it was a splendid time.
First stop after departing the Loop was Maxwell Street Market and a "brunch" of huaraches, pineapple (!) tamales, and tacos al pastor, including a wonderful taco of beef tongue.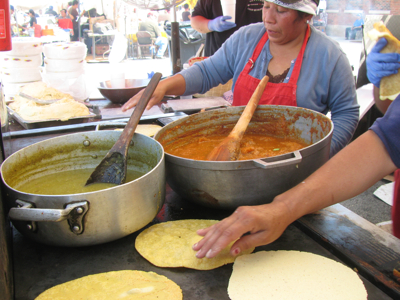 From Market Street we headed just up and over to Greektown to savor lamb and saganaki at The Parthenon where, we were told, the traditional of lighting it on fire, dousing it with lemon juice, and yelling "opaa!" originated. The Parthenon apparently is one of the few Greek restaurants that still builds their gyro cones on the vertical spit in-house. Tasty and ambient (and worth it for the air conditioning), but the best part was yet to come.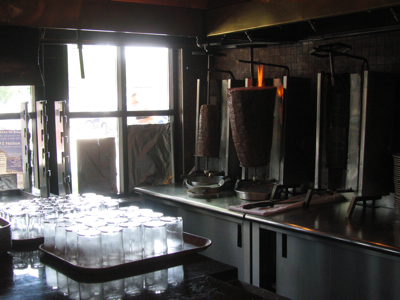 We zagged and zigged through the West Loop to Humboldt Park to our final stop at Borinquen Restaurant, originator of the Jibarito "sandwich". The Jibarito was the best discovery of the trip: steak, lettuce, tomato, and garlic mayo smooshed between plantains. Total delight.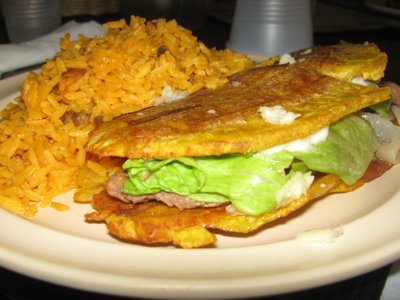 The group was headed back to the Loop whence we began, but thelovelywife and I were so close to home we peeled off. Not a minute after heading out we heard the chimes of an ice cream truck and, given that it was nearly 100° out, we stopped for dessert.
Nearly home, biking up Western, I heard a nasty thwack!, looked back, and found a screw had pierced my tire and exited the other side. We walked the final mile home, sweaty and full.
It's simply a great thing, exploring the city by bike while indulging in its unique foods, but note even on a hot day and with several miles of pedaling the experience is still, as we were told, "calorie positive". And absolutely worth it.
Full photoset here.